---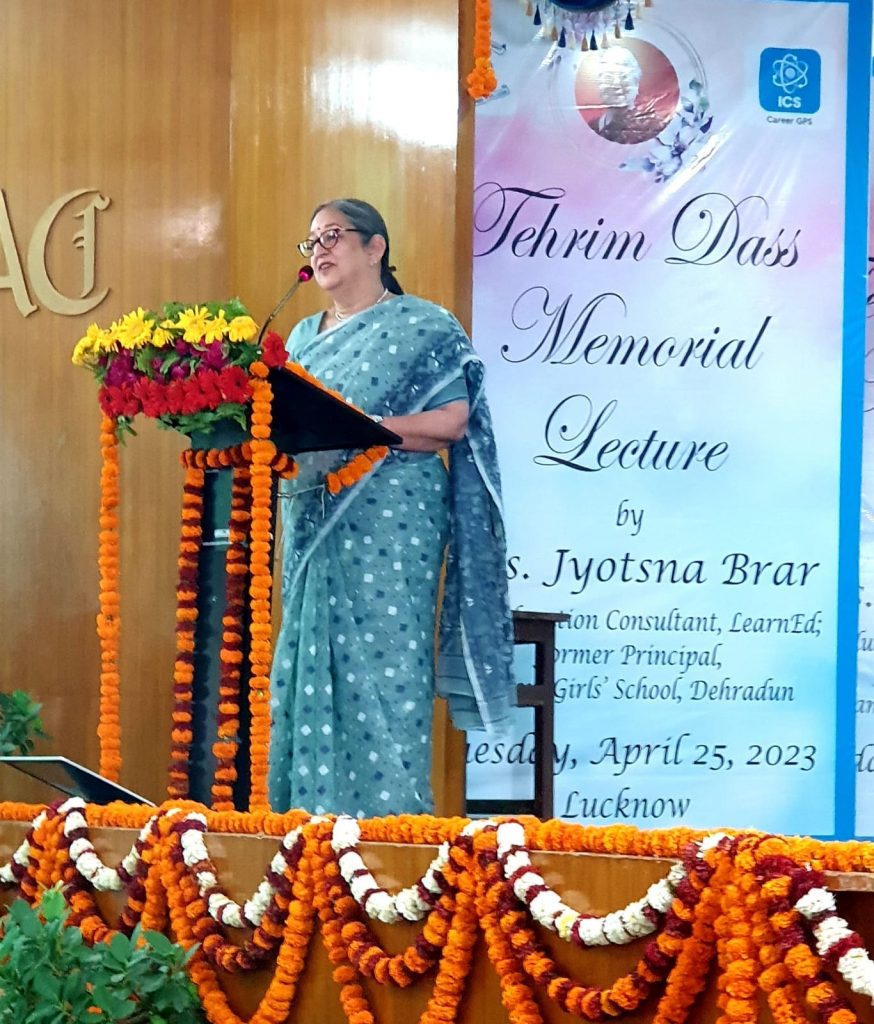 ---
Good morning, Ms. Zarine Viccajee, Prof Nishi Pande, Prof Bina Rai, members of the Governing Body of the Awadh Girls' Degree College, members of the Institute for Career Studies, the faculty, students and alumnae of the College and eminent citizens of Lucknow. I am deeply honoured and moved to be invited to deliver the Tehrim Dass Memorial Lecture this year and I thank you for welcoming me to the College and, indeed, to Lucknow. Most specially I would like to extend my deep gratitude to Dr Amrita Dass, Ms Kavita Dass and Mr Ajit Dass for reposing faith in me, and believing that my words today may live up to the high ideals and values that their mother embodied in her life.
The Awadh Girls' Degree College, or more appropriately, the Awadh Girls PG College, has been an iconic institution for well over half a century. I have a memory of coming to the corridors of the erstwhile Loreto College in 1966 when I was still in school. The alumnae of the College have done their alma mater proud over the decades and taken their rightful place in society. I truly feel very privileged to be here this morning.
The motto of the College – Knowledge and Light – is a perfect distillation of the value of education.
The Founders and members of the Awadh Education Society deserve our gratitude, for we all know the transformative ripple effect of educating girls and women. Mrs Tehrim Dass' close involvement with the management of the College for many years was an extension of her desire to contribute meaningfully to social transformation and I humbly salute her memory today.
I feel blessed that I had an opportunity to meet Mrs Tehrim Dass on several occasions, and to get to know her through Dr Amrita Dass, my friend. Anyone who knew her would remember her as a very 'smiling' person. She exuded a sense of being 'comforting'. She would chuckle at jokes and help others laugh and relax. I felt that she could be this way because she was confident and comfortable within herself and focused on others. That was her great strength.
People who are self-centred are tense as they are consumed all the time by wanting more for themselves by comparing themselves with others, and by weighing their aspirations against their achievements.
Whereas, those who set a wider life focus for themselves, those who take real trouble for other people, those who have a concern for the environment, for plants and animals, those who attempt to understand and work with others who are different from themselves, find greater meaning in life and develop the strength of compassion.
The first step to developing internal strength is to recognise what makes us feel worthy and then develop that quality.
To take an example from Mrs Tehrim Dass' life – she began her voluntary social work at the young age of 15 with the YWCA. One can imagine her as a teenager, recognising her basic nature as a "people's person", and deciding to put it into action.
She understood her 'strengths' and went on to develop them by attending training sessions and leadership workshops, reading up and learning more and more from a very young age so that she could use it effectively and meaningfully for others throughout her life – while giving happiness to herself too.
Mrs Tehrim Dass clearly understood that Education is the most valuable gift of all.
It was no wonder that she aligned herself clearly with the cause of Education. She touched so many lives in so many ways. Over the decades she reached out to bring crucial knowledge to hundreds of families, women and children in an effort to make them stronger.
She founded and directed the Centre for Women's Studies and Development at IT College in 1975. There we have a fine example of a desire to get a better understanding of the needs of people other than ourselves. The Centre focused on making rural women feel more empowered. By making them stronger, arming them with knowledge – of health and hygiene and legal rights and so on – they were endowed with more control over their lives.
When I asked Dr Amrita Dass what she felt I should speak about today she simply said – "anything to inspire the girls". To be honest, that left me feeling extremely nervous and confused. Consequently, for weeks I have agonised over what to say to you all which is relevant, meaningful, sensible and – most challenging of all – not boring!
I have wondered why and how a seventy-year-old person could make sense to young people yet in their twenties. All the students and young teachers here are looking forward to their lives ahead. I am looking back at the life I have lived and the lessons I have learnt. I believe that somewhere on this timeline of the forward gaze and the backward look, our lives are touching today as an intersection of your aspirations and my experience and that is where we can try and find a collective meaning in our meeting today.
Moreover, I want to proffer my sincere apologies that you are being subjected to a TALK. We are all living in the era of Whatsapp memes. Every morning, as soon as people wake up, they pick up their phones and are flooded with pictures and videos of 'LIFE GYAN'. We all read brilliant quotations with background music and inspiring pictures of the sun's rays emerging from behind the clouds. We listen to gurus and yogis, to sants and poets, to scriptures and stories which tell us how to think, what to feel and how to live.
The word 'lecture' too has a pretty negative connotation if used as a Hindi word. We tell our friends, 'Please mujhe lecture mat do!". So I apologise that I have no music, no sun's rays shining behind my head, no wonderful quotations. I only have a "lecture" as I stand before you, unsure of what 'life gyan' I can share. But, as I am here in an institution of higher learning for girls, it is but natural to speak of the role of education in the lives of us women.
Looking back at seven decades of my life, one thing I can clearly see is that we do not have control of what all life throws at us. We are just a small dot at the centre of our environment and there are many factors beyond our control. For a start, we cannot control our genetic lottery, It is like a hand of cards which is dealt to us – our parents, our family, our physical self, our basic nature, infact even our childhood – all this we are simply born into. But then we begin to grow and develop and there comes ONE POINT when we can start influencing OURSELVES, changing ourselves the way we want.
That point is the real beginning of the rest of our lives.
If at that point of our growth, we have the privilege of a good EDUCATION it helps us negotiate this crucial turning point and it becomes a life-changing factor.
Can we even imagine the situation of young people – specially girls – who do not have this privilege?
Psychologists say that the most excruciating state of mind is the state of vulnerability. Those who do not have a sense of self-worth are extremely vulnerable and can be manipulated by others. Imagine going through life haunted by this sense of vulnerability, of being less than others, of being led by others.
Education is the one factor which gives us a sense of self-worth and the confidence to be able to speak up and think for ourselves.
Strength is internal stability and toughness and resilience, whereas power is a measure of external control over other people and circumstances. Gym instructors define the difference between strength training and power training. They define Strength as the sustained force required to overcome resistance and Power as the force required to do a task effectively at a specific period of time.
Education is the inner sustenance which gives us the power to act when required.
Education gives one true Freedom.
To be qualified and able to depend on oneself is the most liberating thing.
Our former President, Dr APJ Abdul Kalam Azad, gave a remarkable formula of Education. He said, "Knowledge = (is equal to) Creativity + Courage + Righteousness". Those are three very unusual and significant words that he used to explain the difference between mere Information and true Knowledge – Righteousness, Courage and Creativity.
The website of the Awadh Girls' Degree College defines the aim of the College as value-based education. Dr Abdul Kalam felt that the values of Righteousness are what brings peace and stability – to people, to families, to communities and to society. He deemed this sense of right and wrong an important component of real education – for what use is learning if not supported by ethics?
We can be doctors or lawyers, administrators or media persons or teachers or scientists and technologists – but the real measure of our lives – and the real pleasure of our lives – is in the kind of use that we put our training and learning to.
The second word that Dr Kalam stressed was Creativity. I would like to see this in its wider sense.
In short, it gives us the ability to create ourselves.
The better the education, the greater our freedom to be creative about generating our own knowledge. Particularly in the lives of women, we cannot underestimate the degree of empowerment that this gives.
The third word that Dr Kalam focused on was 'Courage'. What a marvellous word. It comes from the root word 'Cor' which means HEART in Latin. Courage is defined in the dictionary as valour and the quality of mind which enables one to meet trouble and danger without fear. How right Dr Kalam was when he said that knowledge gives us the heart and the guts to carry on and face challenges sensibly.
Mrs Tehrim Dass invested in Education as a cause – particularly Women's Education.
It is no wonder that she passed this on to her own children and to the young people she came in contact with. She understood well the power of knowledge, specially in the hands of women.
By and large, women have a great deal of inner strength and have demonstrated it in extremely challenging social environments everywhere. However, very often this strength has become equated with the ability to ENDURE rather than the ability to INFLUENCE.
Not every girl or woman has access to the knowledge that can empower her in a wider social context. We must not take education for granted. Studies carried out on the effects of the recent Covid pandemic showed that particularly in semi-urban and rural areas of India, girls were pulled out of school and colleges as they did not have access to gadgets for online learning, whereas boys were given much more access by their families. However, the percentage of women nurses and healthcare workers during the pandemic was extremely high. Women shoulder multiple responsibilities both inside and outside their homes and show much more resilience to change, yet often they cannot use their full potential for their own future or for their families.
During the early years of space travel, NASA conducted studies on the suitability of women as astronauts. It was found that women consumed less, wasted less, were better able to work in smaller spaces than men without getting stressed and handled the controls better. Yet 90% of astronauts are men.
In the Mangalyaan Mission, the success of the calculations for both accuracy of orbit as well as for completing the mission at an unbelievably low cost was attributable to the marvellous ladies working on the mission. Women are natural MBAs. They handle their homes and their families, they can work within budgets, they can handle different personalities, and they can manage time and resources.
I saw on the AGDC website a large number of clubs and extra-curricular activities that the college encourages the girls to choose from. I was heartened to read that at least two are compulsory, thus ensuring a balance of skills and knowledge. If one looks at it, both in Western and Indian cultures, the repositories of knowledge and skills are goddesses, not gods.
The symbols of power and energy are also goddesses, rather than gods. In classical Greek mythology, the nine beautiful muses are the inspiration of poetry, music, history, drama, agriculture, dance, geometry, astronomy and rhetoric. Minerva is the goddess of learning and the repository of knowledge.
In Indian mythology too we have Saraswati, the goddess of learning and knowledge and wisdom.
It is quite fascinating that traditionally no temple is built for Saraswati. We find temples for Devi, Durga, and Lakshmi but Saraswati is not bound to any spot. She is symbolically depicted as one who flies across spaces on her swan, bringing knowledge and wisdom wherever she stops to stay awhile. Saraswati is worshipped only by the process of learning and wherever there is a student who is engaged in the pursuit of knowledge and wisdom, that spot becomes her temple – her Vidyamandir.
I find it fascinating that mobility and the power of access is connected with the concept of learning and knowledge.
Because knowledge cannot be confined.
Wherever women have been denied access to the wider world, where they have been restricted or cloistered, they have remained more vulnerable and powerless. Where this has happened, the social fabric has drastically declined. There is a common phrase in Hindi – Aaj kal ladkiyaan bahar nikal rahi hain. To gain knowledge, one has to step out. That is the first step.
Here I would like to link the idea of the freedom that technology can give to girls and how the practical use of technology must form a critical part of very early education for children. It is truly the window to the world today and the internet allows one to step out without physically stepping out. From booking tickets to managing money online, learning new skills, new languages, new crafts and recipes, from getting varied entertainment, or ordering anything from anywhere, listening to blogs, searching for information, selling our products and services, to armchair travel all over the world, the internet is a great enabler.
If we wish to empower young people then we must educate them and expose them to the joy and wonder of going much beyond TikTok or Bollywood or dance competitions or Swiggy.
Going back to the College website, I saw how career counselling is an integral part of the lives of the students at Awadh Girls Degree College. The syncretic relationship between acquiring knowledge and then putting it to full and proper use lies in the Counselling that is available to young students. I link this too with Mrs Tehrim Dass's farsighted vision. She recognised this need almost 40 years ago when she encouraged her daughter to start the Institute for Career Studies. I remember attending a session by Dr Amrita Dass in the mid-80s for our students in Dehradun. It was a new experience for the students and for us teachers. When the session was over we were left with a sense of the vastness of the world of opportunity beyond the school walls. Back in the 1980s and 90s, it was the role of the teacher to bring the world into the classroom.
Today the challenge lies in helping the students to sift out the false and misleading information that floods their lives.
In the end, I would like to share a concern which has been on my mind of late. Today I have been speaking only of the empowering role of education in the lives of girls and women. When I googled the word 'empowerment', I found a significant comment by none other than Karl Marx who was an avowed feminist. I would like to share those words because they really got me thinking. I quote:
"In the field of citizenship education and democratic education, empowerment is seen as a tool to increase the responsibility of a citizen. It is the key concept in promoting civic engagement….."
Clearly, citizenship education works if it empowers both boys and girls to take on social and civic responsibilities as equal democratic citizens. The government slogan on our buses and trains has been "Beti Padhao, Beti Bachao". Bachao!? Kis se bachao? Who or what do we need to SAVE our girls from?
Today I believe the time has come to empower our boys.
There are more than 22 million boys in India in the single age group of 17 years alone as per the last census.
It is our boys who need the right role models calling out to them from every headline, every film and advertisement, every government hoarding and corporate initiative for skilling of youth.
It will improve by teaching the boys to move from the vocabulary of power and privilege to the vocabulary of cooperation and care. To empower our boys we need to give them soft skills education, more self-esteem and good role models right from their school years. I believe that women have an equally big role to play in this as teachers and mothers, wives, daughters and sisters.
My closing words are for the students of the Awadh Girls' Degree College and I have borrowed them from an anonymous writer –
"A strong woman stands up for herself. A stronger woman stands up for everybody else."
These words remind us of Mrs Tehrim Dass and I hope that they resonate with you too through your lives.
God bless you with the Knowledge that leads to Courage and Creativity and a sense of Ethics and Justice.
Thank you all.
"The question isn't who's going to let me; it's who's going to stop me."

Ayn Rand
…
---
Have you checked out yesterday's blog yet?
---
Like this post? For more such helpful articles, click on the button below and subscribe FREE to our blog.
---
Download our mobile app, ICS Career GPS, a one-stop career guidance platform.