Article by: Aditya Gupta (ICS Alumnus & Student of BBA at the Symbiosis Centre for Management Studies, Noida)
Edited by: Ms Sanchita Dwivedi
---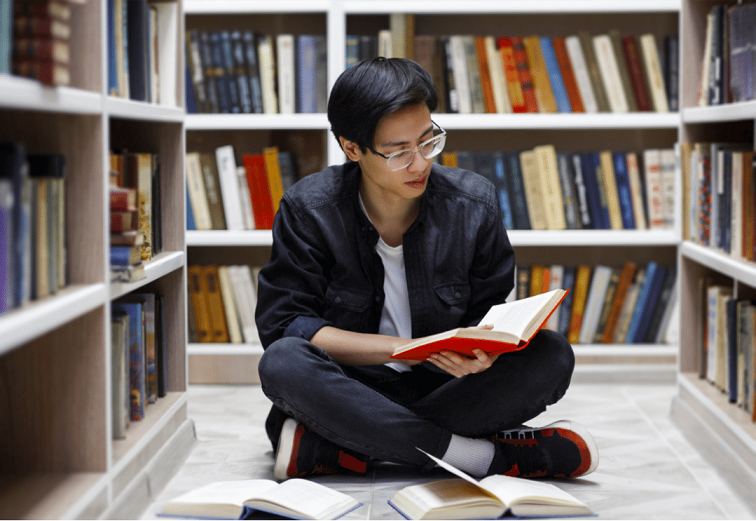 ---
To take inspiration from a quote by Amal El-Mohtar, "There's a kind of time travel in books." The art of fiction-writing creates worlds that give readers a place to reside in and explore. I believe that the most important gift that any person can give to another is a new perspective. And this is something that stories do wonderfully.
From the moment you start reading a work of fiction, you begin your journey into a unique universe that originated in the author's mind. Depending on the story, it can make you live through a range of emotions, empathise with different characters, and learn valuable life lessons.
Let's take a look at some key advantages of reading fiction:
1. Offers A New Perspective
Sometimes, we all need a new lens to look at life with, a new filter to scan our problems through, and a better understanding of human emotions.
Stories can give us new perspectives depending on how we absorb their messages.
There is no correct or incorrect interpretation of a story.
What a story means to you is a reflection of how you look at situations and the world around you.
A very wise man once said, "If a hundred people read a story, then there are a hundred different stories."
2. Improves Emotional Intelligence
Everyone is brought up differently.
They are shaped by their own experiences and every decision they take has a justification, according to them.
They are not wrong, just different from us.
Novels expose us to different characters and their varied emotional responses. They also make us empathise with them.
Understanding the actions and motivations of people who may have viewpoints different from ours increases our empathy and compassion.
This, in turn, can help us manage arguments better and resolve conflicts with greater ease.
3. Introduces Us to Inspiring Characters
What glues the readers to a story is how we are able to relate to certain characters, their struggles, and their resilience.
No matter who you are, we all know feelings of love, friendship, betrayal, loneliness, sadness, happiness, etc.
Through these emotional journeys, we also come across characters that inspire us – with their decisions, strength, courage, and conviction.
Sometimes, when facing certain life situations, thinking about these characters can inspire us to set aside our doubts and put our best foot forward.
4. Enhances Our Imagination & Communication Skills
While a story empowers us with a new language to emote and express our feelings, it also enriches our imagination and communication skills.
The more we read, the more we gain in terms of vocabulary, grammar, and linguistic expressions.
We also learn to think out of the box.
This holds us in good stead throughout our educational and career journey.
To conclude, I'll say this – no matter how much you explore in your life, there is no way you would be able to live out the entire gamut of human experiences. One way to come close to doing this is by reading fiction. So read as many stories as you can – not just for who you are, but for who you wish to become one day!
…
---
Have you checked out yesterday's blog yet?
---
(Disclaimer: The opinions expressed in the article mentioned above are those of the author(s). They do not purport to reflect the opinions or views of ICS Career GPS or its staff.)
Like this post? For more such helpful articles, click on the button below and subscribe FREE to our blog.
---
---
---
Download our mobile app, ICS Career GPS, a one-stop career guidance platform.