---
Dr Amrita Dass, Founder-Director, Institute for Career Studies (ICS) Educationist & Career Consultant
The article was first published in Orbit Magazine (Vol. IX No. 1 | April-June 2021 issue)
---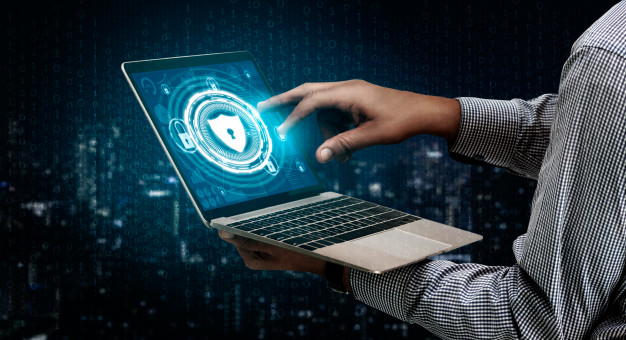 Cyber safety, also known as online or Internet safety, is all about the responsible and secure use of Internet and Communication technologies, which are indispensable today.
The term includes:
being aware of the risks to one's private data or organisational data as one surfs the Internet
using the most appropriate and latest version of software to guard against a potential cyber attack and
taking the necessary steps to minimise the damage after such an attack.
What is a cyber attack?
Just as you have real-world miscreants, you also have cyber criminals today. A cyber criminal uses technology to maliciously disable a computer or a network of computers, or to steal vital information.
In our present tech age, this can create havoc. Just imagine, if cyber attackers break into the data of the pharma companies researching and producing the vaccines against COVID-19, what would be the implications? They could pass on the information to other countries / companies, resulting in illegal versions of the vaccines – causing loss of billions to those who made this pathbreaking global vaccination a reality.
Cyber attacks can range from someone stealing your credit card information or netbanking details to the theft of your online identity (hacking of social media accounts / emails) to defamation through morphed photos and edited audio-videos.
The most serious is, perhaps, online attacks on government and military installations. What would be the meaning of fair voting if there were security breaches in the election infrastructure? What kind of catastrophe would unfold in the eventuality of a cyber war? The outcome could be far more devastating than that of an actual physical war.
For corporate organisations, cyber attacks can translate into loss of valuable time and money spent in years of R&D activities, theft of pathbreaking business ideas, stealing of customer information and much more.
Job opportunities in the field
The pandemic exponentially accelerated the need for digital profiles. As people started working from home, the need of data protection was felt more than ever.
So, if you're interested in working as a cyber security professional, rest assured there will be no dearth of jobs for you. Even before COVID-19 struck, the US Bureau of Labor Statistics had projected the rate of growth for jobs in information security at 37% from 2012–2022!
Here's an indicative list of some of the job profiles in the field:
1. Network Security Engineer
You will make sure that online threats are countered and checked through strict implementation of all security systems. You'll maintain firewalls, check routers & network monitoring tools, and work to improve automation. The average salary for a beginner is around Rs 6 lakh PA.
2. Security Analyst
In this profile, you will help in planning, implementing and upgrading security measures. You'll monitor and audit security access and conduct tests to identify problem areas. The salary of a beginner is around Rs 6 lakh PA.
3. Security Architect
Here, as the name suggests, you will help design the network and cyber safety architecture for an organisation based on its needs. You will also develop the policies and procedures for how the employees use the security systems. The average salary is over Rs 15 lakh PA.
4. Security Manager
In this role, you will ensure the maintenance of security protocols throughout the organisation. You will be in charge of a team of IT professionals to maintain data security. You will periodically review the existing policies and decide on upgrades as per need. The average salary is over Rs 10 lakh PA.
5. Chief Information Security Officer
This is a senior-level executive position. The CISO is responsible for ensuring that the company's cyber security plan is in tune with the business goals and operations. The average salary is over Rs 20 lakh PA.
6. Apart from these, there are also emerging and trending specialisations such as that of a Cyber Lawyer
If you have a passion for both computers and law, then this could be your calling. A cyber lawyer is a techno-legal lawyer. He/she has expertise in the technical aspects of computers, networks, communication devices, etc., as well as comprehensive legal knowledge, including the special laws applicable in techno-legal issues.
Charting your career path
To make a career in this field, you can consider your bachelor's degree in computer engineering, computer science or computer applications. During this period, take up some specialised courses in cyber security through platforms like Udemy, Coursera, etc.
While students pursuing engineering and computer science will require physics, chemistry and math as subject eligibility, in India, computer applications is open to students from all subject streams, provided they have math or computers as subjects at the 10+2 level.
You can also consider a 5-year integrated BSc LLB course with a specialisation in cyber security.
For post-graduation, you should ideally pursue a master's degree in cyber security. Globally, some of the best universities known for their master's programme in cyber security are: Boston University, John Hopkins University, New York University, University of Illinois at Urbana -Champaign, University of California – Berkley, Georgia Institute of Technology, George Mason University, Purdue University (Main Campus).
In India, over 200 colleges offer courses in this field. These include the Indian Institutes of Technology (IITs), Gujarat Forensic Sciences University Gandhinagar, IIIT Kottayam, IIIT Bangalore, IIIT Hyderabad, IISc Bangalore, just to name some.
You can also do the Certified Information Systems Security Professional (CISSP) – an advanced level certification. It is a globally recognised certification offered by (ISC)². The International Information System Security Certification Consortium or (ISC)² is the world's leading organisation specialising in certifications and training for professionals in cyber security. For best impact, do this programme after getting some relevant work experience in the industry.
Qualities needed for a career in cyber security
Investigative mind
Attention to detail
Curiosity and the desire to learn
Problem-solving skills
Critical thinking
Technical aptitude
Knowledge of security across various platforms, computer forensics, understanding of hacking, etc.
Communication skills (to get cooperation from both tech and non-tech teammates)
So, if you have a deep interest and high aptitude in computers, you can enjoy a successful career in the field of cyber security. The demand for professionals in this area is ever growing. If you continuously update your knowledge and skills, you will never run out of options!
---
---
Like this post? For more such helpful articles, click on the button below and subscribe FREE to our blog.
---
---
---
Download our mobile app, ICS Career GPS, a one-stop career guidance platform.