Career Trends: August 16, 2022
Curated by the Knowledge Team of ICS Career GPS
---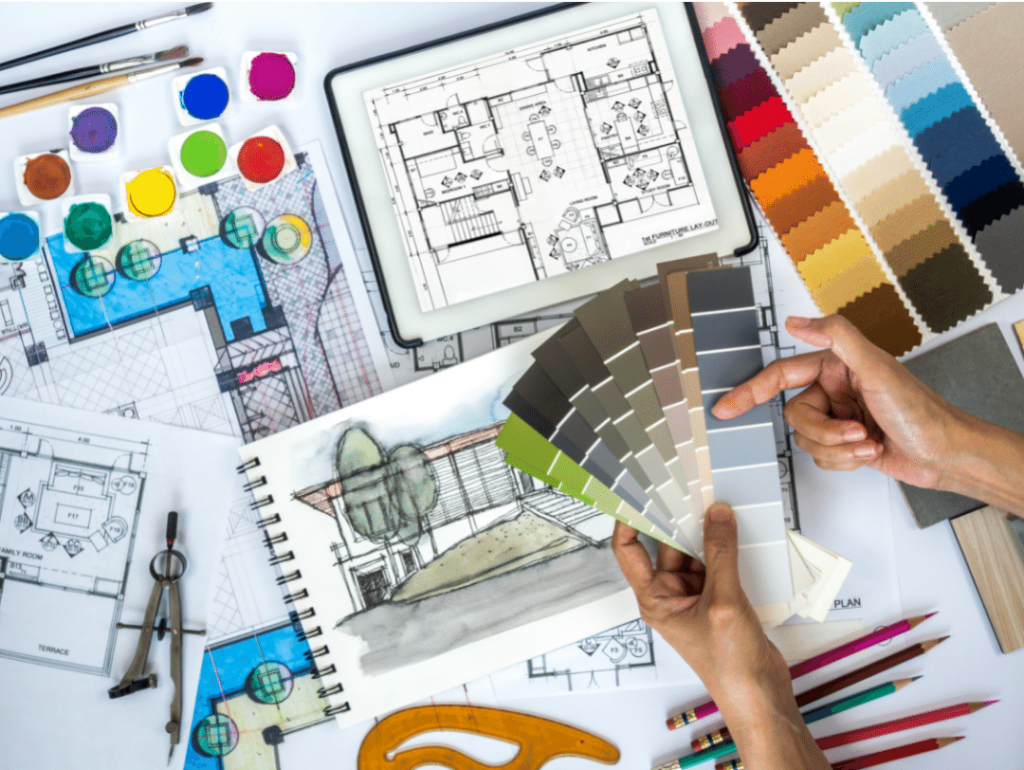 ---
Content Credit:
---
An interior designer is a person who understands a client's requirements and designs a space accordingly. They work with interior architecture and create plans, they also work with a team to execute the ideas in a way that best suits the client's vision and budget. They design all the aspects and consider the nitty gritty of living and working environments. These could include houses and apartments, office buildings, hospitals, theatres, and even virtual spaces.
What does an interior designer do?
Every sector has its unique set of needs and requirements. When it comes to interior design, it includes abstract areas like gauging a project's specific requirements and practical aspects like what can be done to achieve the desired vision. Here are some roles and responsibilities of an interior designer:
Identifying what your client wants and needs from a specific space
Establishing a timeline and estimated cost for every project you are working on, especially when dealing with multiple projects
Sketching, drawing and planning out everything for a project.
Using 3D or design software to translate what you envision into plans and blueprints which you can use to demonstrate to clients as well as to the people responsible for the last-mile execution
Understanding the possibilities and limitations of both spaces and the teams you are working with
Providing regular updates to clients, taking in their inputs and modifying the designs accordingly
Being mindful of budget constraints that clients might have, and planning accordingly
The cornerstone of all of this is to stay up-to-date with popular home design trends, styles and product range so you can provide the latest and best to your clients.
What courses are available for interior designing?
Those who are interested in interior design can take their first steps by pursuing a course or degree. There is a varied range of courses available both online and offline – from certificate courses to a master's degree, candidates have a lot of choices.
In India, there are many institutions and universities that provide both full-time and part-time programmes in interior design. Some of the more popular ones are:
Pearl Academy, New Delhi
Garodia School of Professional Studies, Mumbai
NSHM Knowledge Campus, Kolkata
Jagannath University, NCR Haryana
World University of Design, Sonepat
CREO Valley, Bangalore
Ansal University, Gurgaon
Apeejay Institute of Design, New Delhi
Christ University, Kochin
National Institute of Fashion Technology, New Delhi
Institute of Indian Interior Designers, New Delhi
What are the qualities of a good interior designer?
Here are some innate qualities that can be honed and nurtured:
Creativity – the ability to create something unique and original, giving a new shape to the available resources.
Drawing skills – this skill helps translate your vision into a concrete form.
Visualisation – the ability to visualise various ideas from looking at a blank space alone and knowing what to put where.
Teamwork – an important quality which allows a smooth workflow and harmonious relations with both the client and the team.
Patience and perseverance – the ability to take a client's feedback constructively and keep a calm composure.
Opportunities and job roles for an interior designer:
Here is taking a look at a few areas where interior designers are becoming increasingly more relevant:
1. Set Design
Set design is the creation of the physical space in which the action of a performed event takes place.
Primarily used to describe theater productions, it constitutes all the scenery, furniture, props, appearance, and overall look of the stage.
2. Interior Space Consultancy
Interior design consultants are professionals who help personal clients decorate and design their living spaces, offices and more.
They often examine the space clients want, create drawings and models of potential designs and work to enact their vision.
3. Architectural Design
Architectural design is a discipline that focuses on covering and meeting the needs and demands, to create living spaces, using certain tools and especially, creativity.
Therefore, the aim is to combine the technological and the aesthetic.
4. Healthcare Design
Healthcare design addresses a set of complex challenges brought by patient care.
As the needs of patients and providers require many parameters, including safety, efficiency, and aesthetics, a strategic and patient-centered model becomes the norm in designing optimal and healing environments.
5. Corporate Design
The corporate design showcases the visual identity of the corporate.
It includes all the visual assets of the company like name, logo, brand colours, brand visuals, tagline, etc. that help differentiate the company from others visually.
6. Sustainable Design
Sustainable design is an environmentally-conscious approach to interior design which integrates sustainability into its very principles.
Nature and natural resources are made a part of the design.
7. Product Design
It is the process of imagining, creating, and iterating products that solve users' problems or address specific needs in a given market.
The key to successful product design is understanding the end-user customer, the person for whom the product is being created.
8. User Experience Design
User Experience, abbreviated as UX is the area of web design wherein the professional works on enhancing the whole experience that a user has with a company, its products or services.
It involves the design of the entire process of acquiring and integrating the product, including aspects of branding, design, usability and function.
From designing corporate places to hotels, numerous job prospects for interior designers are being created.
---
Have you checked out yesterday's blog yet?
---
(Disclaimer: The opinions expressed in the article mentioned above are those of the author(s). They do not purport to reflect the opinions or views of ICS Career GPS or its staff.)
Like this post? For more such helpful articles, click on the button below and subscribe FREE to our blog.
---
Download our mobile app, ICS Career GPS, a one-stop career guidance platform.