---
Career Trends: November 16, 2022
Curated by the Knowledge Team of ICS Career GPS
---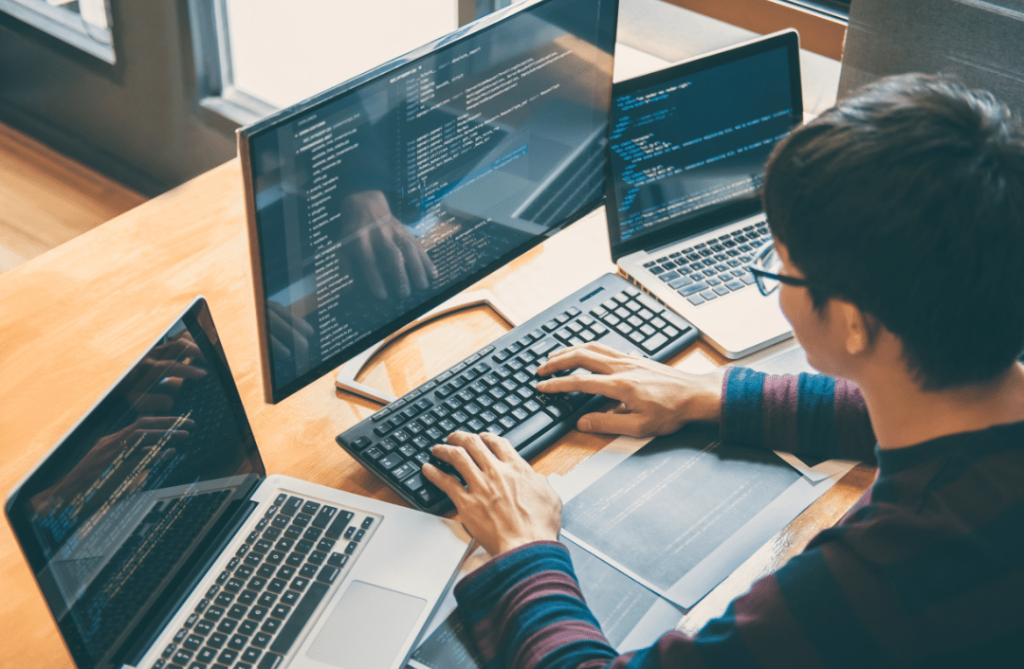 ---
Content Credit:
---
Advances in computer technology have created a high demand for workers trained in computer technology skills like coding. With rapid, constant changes in technology, there is no better time to explore computer programming and coding jobs.
If you are thinking about pursuing a coding job, here is some information you need to get started.
Education and Preparation Required for Coding Jobs:
Some companies require a college degree for coding jobs, but in many cases, you may not need a degree to learn coding skills. Bootcamps and online courses can also teach programming languages and the principles of coding.
Even so, earning a degree in a coding-related field can build a strong foundation of knowledge to help you compete for coding jobs.
You should also create a portfolio to showcase your work.
Types of Degrees for Coding Jobs:
1. Computer Science
A degree in computer science will teach you how to use technology to meet a variety of challenges. This degree typically teaches learners how to design a smartphone app, analyse data and protect user information.
2. Computer Programming
A degree in computer programming covers a variety of subjects, including coding, website development, app and game creation, data analytics, mobile computing and computer programming languages.
3. Information Technology
A degree in information technology teaches systems analysis and design, networking principles and programming skills that are critical for working in the information technology industry.
4. Computer Engineering
A degree in computer engineering teaches students about hardware and software development, digital signal processing, networking, computer systems engineering, robotics and digital processing.
5. Data Science
A data science degree can teach you how to identify and use statistical models and algorithms in data interpretation, machine learning, software tools, data analysis, data manipulation, computer science and statistics.
6. Software Engineering
A degree in software engineering explores the principles of software development, including programming methodologies, data analysis, programming languages, digital systems design, artificial intelligence, machine learning, software validation and software architecture.
Career Paths in Coding:
If you are interested in a career in coding, there are many opportunities to consider. Jobs related to computer science and technology are in demand, and many of those jobs require coding skills.
1. Machine Learning Engineer
Machine learning engineers research, design and build artificial intelligence (AI) systems that make automation possible.
2. Mobile Applications Developer
Mobile application developers use their coding skills to develop mobile apps and ensure these apps operate properly across platforms and devices.
3. Computer Programmer
Computer programmers create computer applications and software.
These professionals make sure their applications and software work properly by writing code and scripts, debugging software and monitoring performance.
4. Software Developer
Software developers create computer applications and improve existing systems to help networks and devices function properly.
5. UX Designer
User experience (UX) designers work with other designers, engineers, product managers and clients to provide consumers with streamlined, functionally sound, user-focused and enjoyable experiences.
6. Software Engineer
Software engineers work with designers, coders and programmers.
These professionals develop and improve software functions, automations and design elements to ensure they are operating properly as a whole.
7. Data Engineer
Data engineers develop solutions that optimise data usage and accessibility. Responsibilities may include analysing data and creating reports, dashboards and tools for consumers.
8. Web Developer
Web developers use coding and design skills to create and maintain websites and applications.
Developers may work with both technical and design elements, such as user interfaces, navigation and accessibility features, software testing and functions.
…
---
Have you checked out yesterday's blog yet?
---
Like this post? For more such helpful articles, click on the button below and subscribe FREE to our blog.
---
(Disclaimer: The opinions expressed in the article mentioned above are those of the author(s). They do not purport to reflect the opinions or views of ICS Career GPS or its staff.)
Download our mobile app, ICS Career GPS, a one-stop career guidance platform.