Edition: May 25th, 2021
Curated by the Knowledge Team of ICS Career GPS
---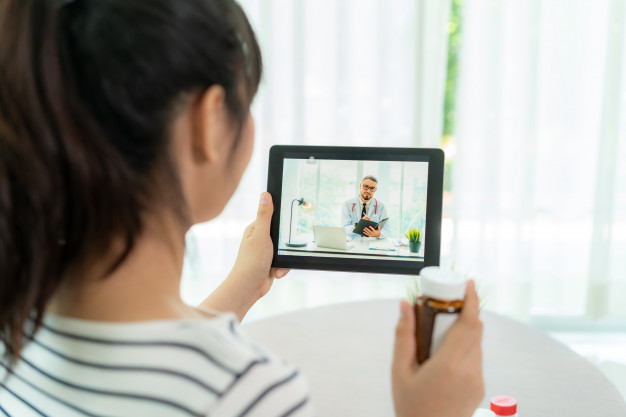 A massive shift to remote work has forced healthcare teams to redeploy staff and devices to provide care to patients (as well as administrative and technical support) outside of the traditional settings of hospitals and clinics.
While many industries are returning to offices and other traditional workspaces, the culture of remote work that has arisen during the pandemic will remain.
In the healthcare industry, this effect may not be as pervasive. Many professionals who require specialised tools and hands-on access to patients will return to their traditional work environments. However, a recent study noted that several healthcare roles – such as general practitioners who can use digital technologies to communicate with patients – have a much greater potential for remote work.
Benefits of Telehealth
Easy access to the quality healthcare services.
Patients who are elderly or chronically ill do not have to take the risk of travelling for a medical consultation.
Doctors can examine patients anywhere, anytime and share the outcomes in real time.
Remote patient monitoring (RPM) process is easier, as medical professionals can check-in on patients anytime.
Lower healthcare cost
Improved information sharing as some healthcare apps can be connected to patients' electronic health records.
Better integration of functions, with healthcare providers using web portals and mobile applications to interact with patients as well as for administrative tasks such as scheduling and appointment check-in.
Trends shaping the sector
1. 'Digital first' approach
Historically speaking, the healthcare industry has been a little slow when it comes to adapting the digital way of things. However, due to the coronavirus crisis, the demands being placed on the healthcare ecosystem have accelerated. This has resulted in increases investments in telehealth, which will help in further digitalisation of the healthcare industry.
2.  Adoption of mobile health
Mobile health or mHealth is the new horizon for healthcare through mobile technologies. In simple words,  it is a specific way to utilise mobile technology to achieve improved health goals. The growing trend of preventive healthcare measures and the rise in funding or investments for mHealth start-ups are also driving market growth.
3. Artificial intelligence as a standard of care
AI-powered technologies can be leveraged to provide automated interactions with patients during critical times. These AI based healthcare chatbots, when integrated with medical information like symptoms, medications, treatments, doctors, conditions, etc., can be a time saviour. Not only this, AI applications can improve the speed and accuracy of the diagnosis process.
4. Technological shifts: 5G, IoMT & more
The future of telemedicine in healthcare is impacted by many technologies – the major being 5G. It will provide a faster network speed that has the potential to completely transform the telemedicine ecosystem. This powerful network will be crucial for delivering medical images, remote patient monitoring, virtual meetings, etc. Equipments, Medicines, and multiple other healthcare needs can be also be determined by using real time technology.
Other technologies such as the Internet of Medical Things, Blockchain and Cloud Technology are also transforming the telehealth world.
5. VR/AR applications & virtual visits
Technologies like Virtual Reality (VR) and Augmented Reality (AR) are helping both patients and doctors. From educating and training healthcare professionals to planning medical procedures, AR/VR seem promising.
Virtual doctor visits make access to healthcare much more convenient. People can see and talk to a medical professional through their smartphone, tablet or computer – right from the comfort of their homes.
6. Remote medical services
There's a strong growth in the area of remote medical services. Many healthcare organisations are considering outsourcing some of their services via telemedicine. There's a demand for vendors in areas like psychiatry, dermatology, neurology and mental health. This will result in a rapidly expanding and competitive market.
7. Globalisation
The telehealth market size has grown globally. Telemedicine is now anticipated to become a major source of international trade. Global investments are constantly enhancing the industry. The potential revenue from telehealth services could have a significant effect on the worldwide economy.
---
(Disclaimer: The opinions expressed in the article mentioned above are those of the author(s). They do not purport to reflect the opinions or views of ICS Career GPS or its staff.)
Like this post? For more such helpful articles, click on the button below and subscribe FREE to our blog.
---
---
---
Download our mobile app, ICS Career GPS, a one-stop career guidance platform.