Edition: December 23rd, 2021
Curated by the Knowledge Team of ICS Career GPS
---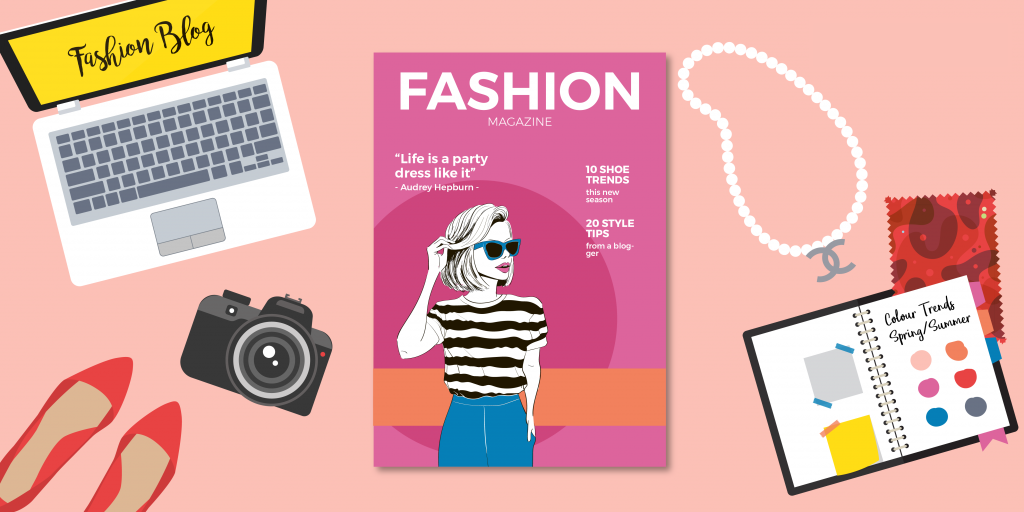 Excerpts from article by Shivam Soni, published on thehansindia.com
The online fashion market witnessed a significant growth of 51% in the Financial Year 2021 in comparison to previous year, as reported by Unicommerce. This boom was a direct result of the pandemic and the resulting lockdowns.
The digital boom in fashion also increased the demand for skilled individuals in various segments of the online fashion market.
Participation of countless segments – like social media, blogs, online orders and delivery, tracking support, etc. – plays an important role in making the online fashion market a success.
Here are the various departments and their scope of work, without which an online fashion market cannot work:
1. Textile Designing
An apparel brand is recognised the most for its quality. A textile designer has an important role to play in delivering quality fabrics. A textile designer can never be underrated in a fashion organisation because the entire processing ahead relies on processing and monitoring carried out by him/her. It is the textile designer who determines how premium a given product will be.
Average Salary: ₹4 lakh to ₹5 lakh per year
2. Fashion Designing
Fashion designers are relied on the most. In fact, the empire of the fashion market depends upon fashion designers who help transform all ideas and concepts into reality. From illustration to the final model shoot, fashion designers have roles at every stage. Therefore, this is one of the most exciting jobs in the industry.
Textile designers and fashion designers require coordination, and this is one of the most challenging aspects when it comes to creating different styles and apparels.
Average Salary: ₹2 lakh to ₹5 lakh per year
3. Trends Forecasting
A fashion market cannot run unless it is updated with the latest trends. This is where the trends forecasting department comes into the picture. Trend forecasters introduce all new concepts and also share ideas on the next steps – how to walk along with the latest trends. There's a huge demand for this role.
Average Salary: ₹21 lakh with 5 to 7 years of experience
4. Marketing & SEO
Online fashion marketing is very diverse and is growing day by day. Companies need marketing specialists to highlight their brands. This is where SEO marketing comes into the picture. It is an essential part of digital marketing, as it determines how a company can be highlighted more and more online, and generate more clicks. Marketing specialists also help in better understanding the existing market.
Average Salary: ₹5 lakh to ₹7 lakh per year
5. Content Writing
Content is the queen as they say. No online platform can work if it does not have engaging content to grab the customer's attention. Content at every stage, from on page to off page, needs to be captivating enough so that potential customers get entertained and educated, and feel like coming back again.
Average Salary: ₹3.5 lakh to ₹4 lakh per year
6. Warehouse Management
Be it an offline store or for an online fashion market, warehouse management is crucial. Their job is primarily about maintaining the incoming and outgoing stocks along with assuring timely creation and management of products in the market. No company is successful with irregular maintenance of logistics and lack of inventory management.
Average Salary: ₹1 lakh to ₹2 lakh per year
7. Software Development
Developers are mainly of two kinds, website developers and software developers. The two have their own importance as one builds the website while the other builds strong databases and applications. Each of them is mandatory for maintaining the functioning of the website and other digital platforms.
Average Salary: ₹5 lakh to ₹8 lakh per year for website developers. ₹5 lakh to ₹11 lakh for software developers.
8. Graphic Designing
Designing is at the core of the fashion market and a graphic designer is the heart of it. They are the ones behind any exclusive website and create designs and patterns right from the website to the products. Fashion organisations tend to have strong teams of graphic designers.
Average Salary: ₹3 lakh to ₹4 lakh per year
9. Business Analysis
A business analyst analyses what's working for the organisation and what isn't. They monitor the e-commerce data of the company. They also share this data and the findings from it among all the managers and decision-makers for better business understanding and functioning.
Average Salary: ₹4 lakh to ₹5 lakh per year
….
---
---
(Disclaimer: The opinions expressed in the article mentioned above are those of the author(s). They do not purport to reflect the opinions or views of ICS Career GPS or its staff.)
Like this post? For more such helpful articles, click on the button below and subscribe FREE to our blog.
---
---
---
Download our mobile app, ICS Career GPS, a one-stop career guidance platform.