Edition: November 11th, 2021
Curated by the Knowledge Team of ICS Career GPS
---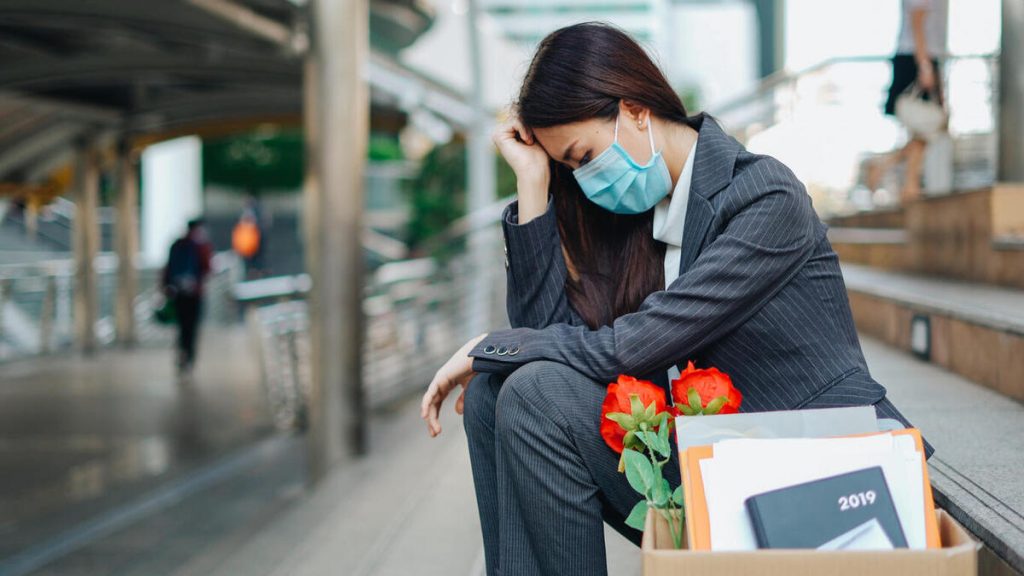 If you've been furloughed or laid off in recent months, you're in the company of millions. That can be reassuring in one way, but even so, being out of work is hard – hard on your pocket, your pride and your mental outlook.
Yet, like all setbacks in life, it's not the event itself that determines your future but how you respond to it.
One of the biggest challenges the recently unemployed face is managing the emotions that job loss can trigger. Humiliation, vulnerability, anxiety, anger, self-pity, hopelessness, even shame. The blow to the back pocket often pales in comparison to the blow to our sense of identity.
Being able to keep a positive mindset not only differentiates you from the masses, helping you get back to work sooner, but also expands your ability to use this time in a way such that one day you look back on the experience with a measure of gratitude for what you gained from it.
Are you feeling demoralised or struggling to 'get your head in the game'?
Here are 10 tips to make the most of this time, using it to eventually land in a better position with a richer experience of life:
1. Don't let your job status be your identity.
Just because you got the 'pink slip' and someone else didn't does not mean you don't have value to add. So, don't make it mean any more than it does.
Repeat this to yourself:
My value as a human being is not determined by my job status or salary. It never was. It never will be.
Interpret your job loss as an unwanted circumstance that provided a valuable opportunity to grow in self-awareness, re-evaluate priorities and build resilience.
You define who you are. Not your job or someone in a position to hire and fire who is likely struggling to keep his/her own head above water.
So, don't take your job loss as a personal rejection against you. It may have very little to do with you!
Potential employers will be more attracted to people who have proven their ability to stay positive and confident despite a setback.
2. Extract every bit of learning you can from the experience.
It's really important to make sure you don't miss any valuable lessons from this situation.
This isn't about whipping yourself over what you did or failed to do.
Beating up on yourself for what you did or failed to do just digs you into a hole of shame or self-pity that serves nothing and no one.
Make sure you respect the maxim that 'those who've not learnt from the past are doomed to repeat it'.
It's possible you did absolutely nothing to land in your predicament.
But maybe there are things you could have done that might have helped avoid it. If so, don't squander that lesson.
3. Focus on setting yourself up for your dream future.
Research shows that people who focus only on the negative aspects of a situation have a constricted peripheral vision compared to those who are focused on the positive aspects.
This psychosomatic connection is testament to the importance of being very intentional about where you're placing your attention.
So once you've done your self-audit, be deliberate about putting your attention and energy on your optimal desired future.
If you're not sure what your ideal 'dream job' would be, consider engaging a career coach or spending time figuring out what that is. This is the perfect time to reset your 'life compass' if you didn't enjoy the path you were on.
4. Tap into your network. Remember, weak ties also matter.
Many jobs are never advertised but are filled through personal recommendations and referrals.
In which case, the more people who know what you want, the more potential help is at your disposal.
Research shows that our 'weak ties' too can open new doors of opportunities for us. Yet, we often focus most of the time on the 'strong ties'.
So be sure you reach out to a broad network of people, including those whom you might ordinarily not be in touch with.
Make a long list. Then start moving through it methodically.
If reaching out to people triggers a fear of rejection, make the conscious decision to rise above that fear and reach out anyway.
Sometimes you've got to be braver than you want to be. Besides, most people are very happy to help and will be pleased you asked.
5. Establish a productive routine with a strong start to your day.
When your world's been knocked off its axis, it's good to give yourself some time to mentally reset and regain your emotional footing.
Assuming you can't afford a long unpaid break, it's important to immediately start looking for work.
Set your alarm, prioritising morning rituals that help you get a strong start to the day. Then create a routine to help you make the most of your time.
Create a job search plan with goals, actions and accountability deadlines. Then prioritise, structure your day and treat finding a job as a job.
6. Get up, step out and stay active!
When life has kicked you down, it's tempting to stay there, curled on the couch, binging on Netflix. But psychological resilience requires physical resilience.
Resist the temptation to stay put and get moving instead. This is the perfect time to get in the best shape of your life.
Physical activity helps to process stress, ward off depression and improve both cognitive and immune function.
Studies have found that exercising just three times a week can have the same effect as that of an anti-depressant.
7. Protect your positive energy by keeping negativity at bay.
Speaking of emotional contagion, surround yourself with people who lift you up, and avoid those who don't. You know the ones. The ones who just fuel pessimism and pity.
While ordinarily, you might have capacity for their dire predictions for the future, right now, you need to stand guard on your energy.
8. Find ways to make someone's day.
You can also harness 'emotional contagion' but being a source of it for others.
There's no more powerful way to do that than proactively looking for ways to lift up the spirits of people around you.
It's well researched that acts of kindness produce 'feel good' endorphins.
A helping hand not only lifts the recipient, it lifts the helper.
9. Consume media judiciously.
Research shows that when we're already feeling down and out, social media can worsen the situation.
So, if scrolling through your social media feeds only serves to waste your time and not lift your spirits, then consider deleting or deactivating your accounts.
Same for other media platforms / sources that aren't making you feel more positive, purposeful or hopeful about yourself and your future.
Consider picking up a great book. Or if you don't want to read, download a 'feel good' podcast or audio book.
10. Keep faith. Water seeds of hope and opportunity.
Napoleon Hill wrote, "Every adversity holds the seed of an equal or greater benefit."
What he didn't mention is that you must actively look for those seeds, water them often, and be patient as they grow…on their timeline, not yours.
So each morning, recommit to making the best of the time you have and show up with the mindset of the kind of person you'd want to work with.
Most of all, keep faith. The most valuable chapters of our lives often don't get a title until much later.
…
---
(Disclaimer: The opinions expressed in the article mentioned above are those of the author(s). They do not purport to reflect the opinions or views of ICS Career GPS or its staff.)
Like this post? For more such helpful articles, click on the button below and subscribe FREE to our blog.
---
---
---
Download our mobile app, ICS Career GPS, a one-stop career guidance platform.