Edition: June 4th, 2021
Curated by the Knowledge Team of ICS Career GPS
---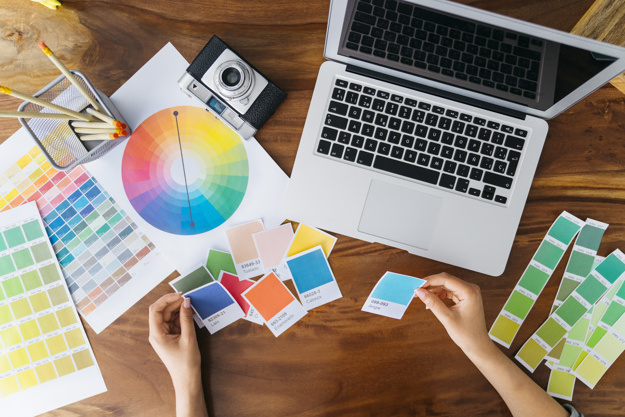 Excerpts from article by A. Balasubramaniam, published in The Hindu
With the demand for creative services on the rise, the design domain is no more on the fringes. Gen-Z is now exploring career options beyond the usual choices. Creative youngsters are flocking to newer domains like design, as they realise they can make a thriving career out of something that was once not considered to be a 'serious vocation'.
The design domain is vast and there are various careers that you can choose from based on your interest area. You can be an industrial designer, graphic designer, textile or fashion designer, UX designer, interior designer and more.
Here, we are throwing light on 4 types of design careers that are gaining significance today:
1. Product Design: Imagining a better world
Product design offers the opportunity to develop creative solutions to everyday problems. A product designer is responsible to act on feedback and improve a given product.
This could include choosing better materials, developing accessories to improve the product's general usability, or making changes to an already existing product to make it more accessible. Also, in today's digital world, the product may very well be a software!
2. Communication Design: Visualising excitement
This deals with visual elements like logos, posters and user interfaces. So, one needs 'Visual Literacy'. Every advertisement you have enjoyed watching, every logo that you remember easily, and every attractive brochure that you pick up is the handiwork of a communication designer. The profession itself is evolving, as colleges and universities are working towards making it more digital.
You could use the pencil as well as the stylus but the core of communication design is to appeal to the target audience and to communicate the right message in the right manner, whether it is a magazine, poster or a website.
3. Interaction Design: Improving interfaces
Ever since software started occupying our work area and the mobile phone our personal space, Interaction Design has come into its own. It deals with better interfaces between humans and our devices or between one device and another.
These interactions could be anything from ordering vegetables on your app to booking a ticket for travel to remotely operating your AC or fridge. This is a new domain and there are more jobs than professionals. This demand-supply mismatch itself makes it an attractive profession.
4. Interdisciplinary Design: Diversity in expression
This is the ideal domain for the people with multiple intelligences and varied interests. It typically leads to a T-type designer who understands the breadth of design and specialises in one of them.
The typical interdisciplinary designer works on his own or with start-ups that require different competencies from a single designer. This professional will design your logo, develop your website, curate your products and packaging, erect an exhibition and work on an installation.
These are only four of the many design career opportunities. While choosing a domain, ask yourself what you would like to do for the rest of your life. If the answer is working on creative assignments that bring out the best in you, letting your imagination work and giving extremely satisfying results that affect everyone, then design can be your calling.
---
(Disclaimer: The opinions expressed in the article mentioned above are those of the author(s). They do not purport to reflect the opinions or views of ICS Career GPS or its staff.)
Like this post? For more such helpful articles, click on the button below and subscribe FREE to our blog.
---
---
---
Download our mobile app, ICS Career GPS, a one-stop career guidance platform.