Edition: January 28th, 2022
Curated by the Knowledge Team of ICS Career GPS
---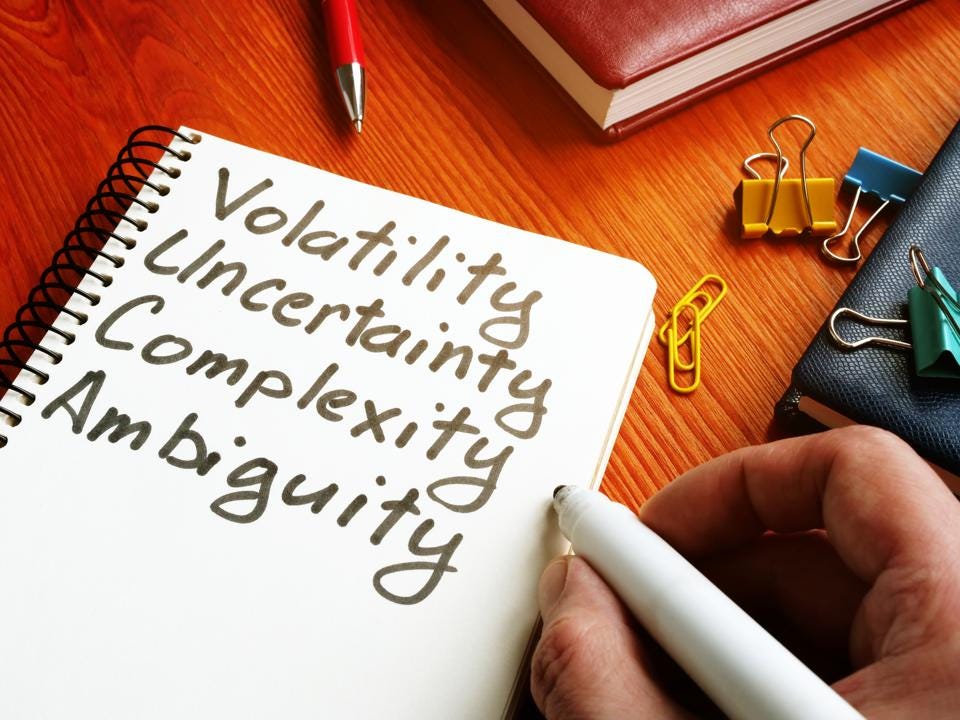 Excerpts from article by Nihar Chhaya, published in Harvard Business Review
When you start a fresh year, it's natural to think about where your career stands and where it's going. But this year, it may be challenging to understand your career priorities and do anything about them, given the continuing uncertainty surrounding our work lives.
Since the pandemic, companies are still trying to figure out many factors that affect their employees' careers, from deciding on the right remote work policies or their use of contingent workers over full-time employees to stemming the tide of the Great Resignation.
A recent study showed that not only is employee turnover still on the rise, but people are also more willing than before to quit their company even without another job lined up.
You may worry that your career will become directionless with all this volatility.
So, here are four tips that can help you not only weather the uncertainty around you but even find a way to leverage it for your future benefit:
1. Take advantage of uncertain times to sharpen your long-term career plans.
When things feel steady and predictable, there is no urgency to do any genuine introspection about your future.
Career certainty may feel good at the moment but can also keep you from operating at your highest potential.
Instability can be an impetus to strengthen your career dexterity for the long run.
Consider how most people wait to rethink their future until after a crisis, like being laid off or wanting to quit your company due to a toxic workplace culture.
At that point, it's challenging to gain the necessary self-insight before making decisions out of desperation.
Instead, invest in your career development while you still have a sense of control and choice so you can stay clear headed and act in your best interest.
By taking a step back during a time of unwelcome instability, you can come up with a strategy that will move you forward intentionally, rather than letting circumstances beyond your control disempower you.
2. Uncover who you need to be, not just what you need to do.
Recent research shows that two-thirds of employees felt the pandemic caused them to reflect on their purpose in life and that 70% of employees see their purpose defined by their work.
The result is a sea change in how today's job seekers are leading their careers with more intention and how companies need to respond in their selection and advancement decisions.
Think about how career advancement has always been about building your resume, with more activities and quantifiable results in each experience. This focus is still important, but it's relentlessly centered on what you've done, not who you are.
To be successful in today's changing work environment, you need to know who you need to "be," not just a list of what you can do.
3. Focus on process, not outcomes, and your passion will find you.
In addition to the stability your deepest values bring, you can create certainty by focusing on processes rather than the shakiness of outcomes.
Not only will this give you a sense of control, but it will also increase the likelihood of successful results in something that can then generate more passion in you to keep contributing.
Establish a few career behaviours that generally have a positive influence on your leadership impact and advancement potential.
Then make it your goal to demonstrate these behaviours on schedule, whether you feel like it that day or not.
The idea is to focus on the "leading indicators" of career success, which are those actions over which you have full command to experiment with.
The advantage of concentrating on the process of your work and career is that it helps shape your identity as a valued contributor no matter what happens.
As your self-perception improves, your intrinsic motivation increases, leading you to offer more of your talents to those that need them.
In these uncertain times, it's better to commit to a steady set of career behaviours and focus on consistency and refinement as you get closer to your desired outcomes.
You will either achieve the initial career goals you had, or at least develop the self-efficacy and resilience to guide your career toward a new offering of value.
4. Develop learning agility to keep ahead of future changes.
Assessing your values, working from intention, and investing in the process of doing great work are all vital for a successful career amidst change. But these factors primarily rely on who you already are.
One more factor is critical for your long-term success because it relates to how you evolve, namely how you learn.
It's called learning agility, and developing it will help you not only stay relevant in your career but outperform in an ever-changing world.
People who measure high in learning agility manage their career with a readiness to adapt, stay curious, are reflective, minimise defensiveness, and unlearn deeply held mental models to make room for more purposeful ones.
Research shows that high learning agility is significantly correlated with highly positive career objectives.
Start to develop your learning agility with a simple reflection practice.
End each, undertake a 10-minute journaling exercise wherein you ask yourself some questions.
In time, looking at the patterns of your reflection journal will naturally open your eyes to opportunities, and shift your mental models and behavior for future growth.
….
---
Have you checked out yesterday's blog yet?
---
(Disclaimer: The opinions expressed in the article mentioned above are those of the author(s). They do not purport to reflect the opinions or views of ICS Career GPS or its staff.)
Like this post? For more such helpful articles, click on the button below and subscribe FREE to our blog.
---
---
---
Download our mobile app, ICS Career GPS, a one-stop career guidance platform.