Education & Career Trends: May 12, 2023
Curated by the Knowledge Team of ICS Career GPS
---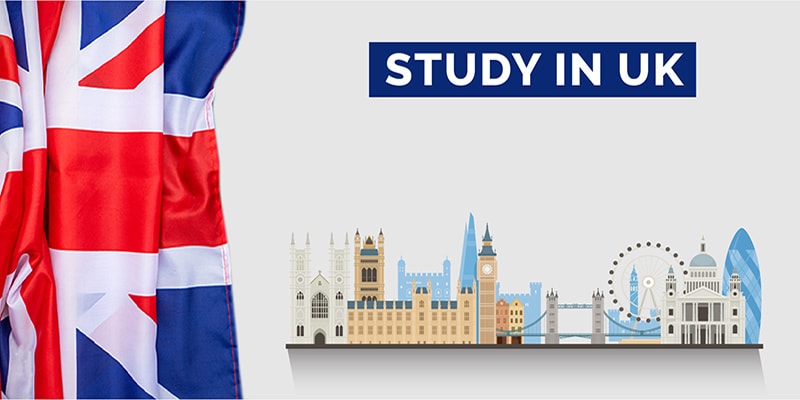 ---
Excerpts are taken from an article published on britishcouncil.in.
---
The UK is a world leader in many areas of education including engineering, science, art and design, business and management, law and finance. The UK offers a world-renowned education system with qualifications that can make a real difference to your future. It attracts over 600,000 international students each year to various programmes, ranging from undergraduate courses to PhDs.
The UK education system allows students to combine courses and subjects from different areas of study so that they can tailor their degree to their needs and interests. Some of the Universities in the UK such as Imperial College London, University College London, etc. have had academic and research ties with Indian Universities for a long period of time. Universities in the UK have recorded an excellent career outcome rate.
Studying abroad is a life-changing decision for every student. Students need compelling reasons to finalise a study destination and academic institution out of a number of choices.
What are the intakes offered in the UK?
Colleges and universities in the UK offer two major intakes, but few of the universities also offer summer intakes.
| Intakes | Duration |
| --- | --- |
| Autumn/Fall intake | September to December |
| Spring intake | January to April |
| Summer intake | April to June |
Which are the Top Universities in the UK?
When deciding which university to study in the UK, it is crucial that you also look at the world university rankings. Here are the top UK universities according to QS World University Rankings 2023
S.No.
Institution
QS Ranking 2023 (Globally)
1
University of Oxford
4
2
University of Cambridge
2
3
Imperial College London
6
4
UCL (University College London)
8
5
The University of Edinburgh
15
6
The University of Manchester
28
7
King's College London
37
8
London School of Economics
and Political Science (LSE)
56
9
The University of Warwick
64
10
University of Bristol
61
How to choose a University in the UK?
Deciding where you want to study is a deeply personal choice, but there are a few general ideas you should consider.
Think about which of the following experiences you want to have during your studies and choose what fits best with you:

A big-city life and cultural diversity in large university hubs like London, Birmingham, or Manchester
A more relaxed lifestyle where you could experience the more traditional aspects of British culture specific to smaller cities like Bath, York, or Southampton

Decide how important a university's reputation is to you:

A high-ranking university will look more impressive on your CV because these universities have a reputation across the world for being excellent. Attending one of them will give you more opportunities, but it will be harder to get in, more expensive, competitive, and more focused on academic results.

Read student reviews to learn how other students feel at that university.
Research how well a university performs in your particular field of study by checking QS Subject Rankings and THE World University Rankings by subject.
Why should you consider studying in the UK?
1. High Academic Quality
According to the QS World University Rankings 2023, 4 Universities in the UK come under the top 10 ranks. These include the University of Cambridge, the University of Oxford, Imperial College London, and University College London. According to the Times World University Rankings 2023 University of Oxford is at 1st position. The rankings of these Universities are a testament to their high quality of academics and research.
2. Emphasis and Scope of Quality Research
The latest Research Excellence Framework 2021 assessed the research work of 157 UK universities. The overall quality of research submissions was noted as world-leading (41%), internationally excellent (43%), internationally recognised (14%), and nationally recognised (2%). UK universities have produced excellent research and students, who are willing to pursue research, can definitely think of the UK as an option.
3. Student-Friendly Destination
In the academic year 2020-21, nearly 605,000 international students, both EU and non-EU, were studying in UK higher education institutions. Nearly 16% (approximately 55,000) of all new enrollments come from India. An increasing number of international students in the UK show its increasing popularity as a study-abroad destination.
4. Scholarships
Students have access to excellent scholarships in UK Universities. Some of these include International Scholarships Award, Commonwealth Scholarship and Fellowship, Chevening Scholarships, GREAT Scholarships, and Charles Wallace India Trust Scholarships, just to name a few.
5. Employability and Career Opportunities
UK graduates are among the most employable in the world, with three UK universities ranked in the global top 20 for employability, and 14 ranked in the top 100 (Top Universities employability rankings, 2021 ). The majority of international students who have studied in the UK report experiencing a significant competitive edge over peers educated in other countries, with over 69 per cent saying they are progressing further, being promoted quicker, and earning more because of the prestigious education they have received.
The country offers some of the best and most comprehensive support systems for international students, both as part of the university and through government or independent bodies and organisations. It's no wonder why so many international students choose to study in the UK.
At the same time, while they do have high tuition fees and living costs which won't be easy to meet, the UK also provides students with a lot of scholarships and funding opportunities.
What's more, British universities excel in all fields of study (Arts and Humanities, Engineering and Technology, Life Sciences & Medicine, and Natural Sciences) but what matters most is that here you can find study areas that are unique in Europe, like Creative Writing or innovative interdisciplinary courses that may sound like this: "Are We Alone? The Search for Extraterrestrial Life." or "From Sherlock Holmes to CSI : a History of Forensic Science and Medicine."
…
---
Have you checked out yesterday's blog yet?
---
(Disclaimer: The opinions expressed in the article mentioned above are those of the author(s). They do not purport to reflect the opinions or views of ICS Career GPS or its staff.)
Like this post? For more such helpful articles, click on the button below and subscribe FREE to our blog.
---
Download our mobile app, ICS Career GPS, a one-stop career guidance platform.