Edition: August 25th, 2021
Curated by the Knowledge Team of ICS Career GPS
---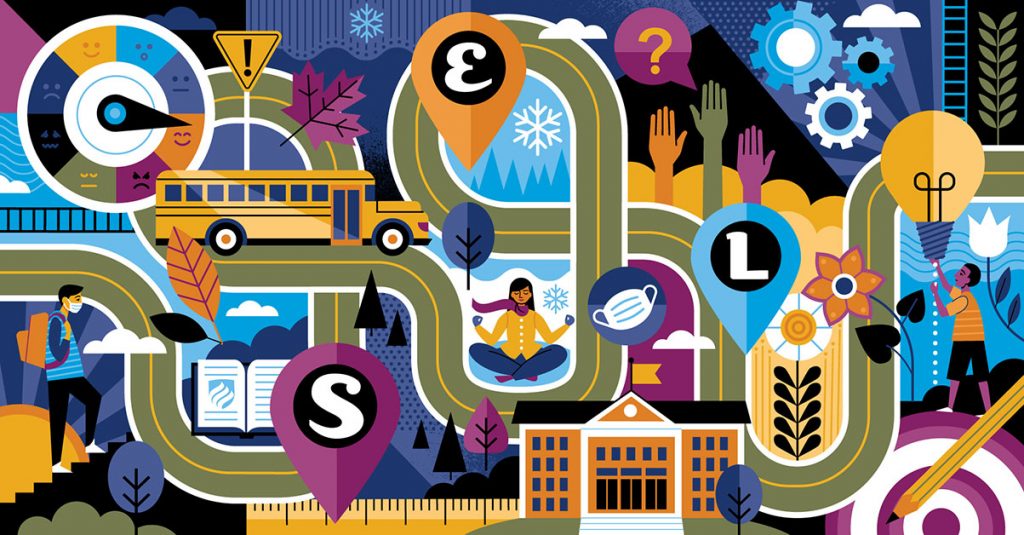 The pandemic has changed the world forever. Healthcare, hospitality and education sectors have made a giant technology-based leap forward to mitigate risks and prevent losses in the future.
When it comes to education, it took less than five months for it to transform more than it had done in the entire decade. Education industry made a huge effort to cope with the challenges. And it definitely succeeded with little to no disruption to the learning process.
Here are some 2020-triggered trends in the education industry that are here to stay:
1. Hybrid Learning
The world's best universities which cost dozens of thousands of dollars to study at have been transforming their instruction models to adopt the new hybrid model.
It has proved to be not only low risk but also cost-effective for colleges and universities.
Disciplines that can be studied online should be studied online.
2. Use of Technologies
Education is now impossible without technology.
Even if you surround yourself with libraries and scholarly papers, you won't be able to survive as a student without a computer.
The need for video conferencing, collaboration, and other tools has significantly increased.
In the future, we are going to get even more dependent on educational technologies.
3. Online Educational Services
Educational services experienced a boom because many students lacked both knowledge and skills to complete the tasks assigned to them.
The situation has improved, but the use of educational services keeps growing.
Academic writing services are in high demand.
4. Need for Computer Literacy
It's not only students who were deeply touched by the problems caused by pandemic.
Faculty members were also unprepared, so they needed to learn how to use certain technologies and programs to stay competitive.
To some teachers, this knowledge came naturally, while others had to spend extra time and put effort into studying those technologies.
5. Better Access to Education
Surprisingly, more people now have got a chance to study.
Since many universities started offering online degree programs, students have realised that they don't have to relocate to get a first-class education. All they need is the internet and a working laptop.
It's been proven that even in the poorest countries, the use of smartphones has been increasing over the years.
Distance learning adopted worldwide gives people a chance to get a degree even if they live in remote areas.
6. Student Community Building
The need to build stronger student communities existed a long time ago, but COVID has made it even more apparent.
In-person communication has become risky, and, with more people staying in, team building has suffered a major change.
Online community building and virtual teamwork are new trends in schools today.
7. Cyber Security Development
Exams and tests used to be taken in person with the student ID being carefully checked.
In 2020, this method of student knowledge control was made impossible.
IT teams have come up with lots of platforms offering all kinds of services to teachers and students and enabling exam monitoring and testing.
The only thing that is still an issue is the security of confidential information and it is something IT experts continue to work on.
8. Blockchain Push
The use of blockchain technologies in education has been discussed in professional settings for a while.
It was perceived as something that will take years to implement, but today its potential is quite obvious.
One of the possible scenarios is that blockchain technologies will be soon implemented to verify certification validity.
Since many diplomas get falsified, blockchain can make such frauds impossible.
9. Virtual Extra-curriculars
Virtual team-building activities were once perceived as something surreal.
Today such virtual extra-curriculars are very much welcomed.
It helps create a feeling that there is a life behind studies.
Surprisingly, there are quite a lot of activities that students can do together while being only virtually present.
…
---
(Disclaimer: The opinions expressed in the article mentioned above are those of the author(s). They do not purport to reflect the opinions or views of ICS Career GPS or its staff.)
Like this post? For more such helpful articles, click on the button below and subscribe FREE to our blog.
---
---
---
Download our mobile app, ICS Career GPS, a one-stop career guidance platform.