Career Trends: October 21, 2022
Curated by the Knowledge Team of ICS Career GPS
---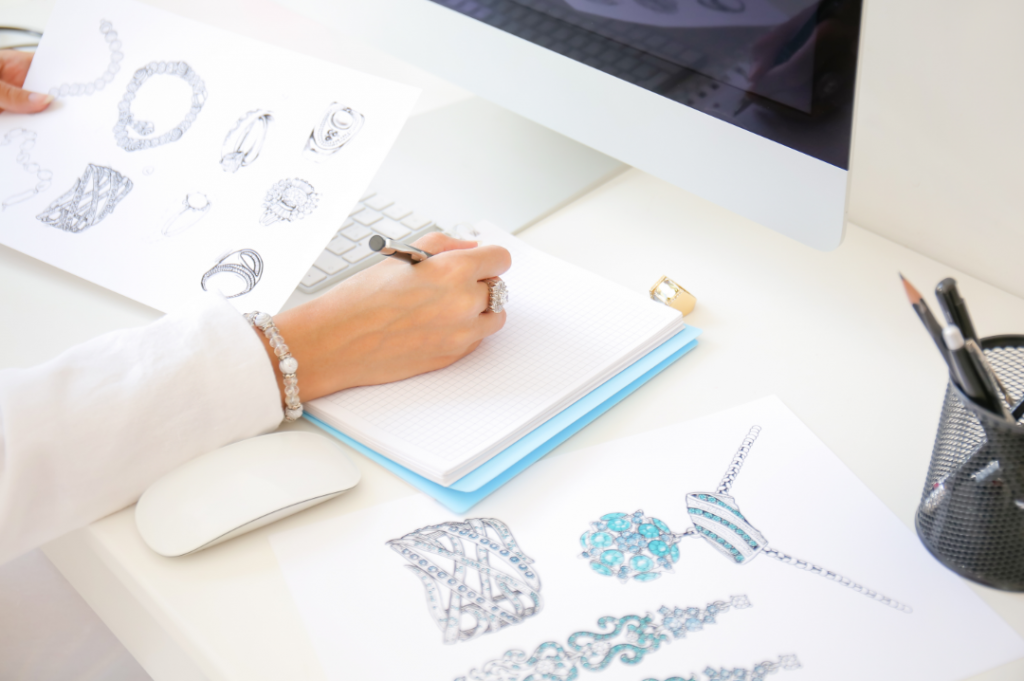 ---
Content Credit:
---
Jewellery has been popular amongst people since ancient times. Nowadays the jewellery market is booming with designer jewellery. Therefore, being a jewellery designer can be a lucrative career choice for those who are interested in creating new and innovative designs. Imagine working with precious metals, beads, and gemstones in order to create wearable pieces of art. Jewellery design as a career is considered an aesthetic profession.
It perfectly suits candidates who have a keen interest in designing. It requires a lot of training, aesthetic creativity, time and an eye for detail.
What is the role of a Jewellery Designer?
Career as a jewellery designer is not confined to creating sketches of designs. But their everyday work life requires expertise and command of design processes such as cutting, shaping, polishing, stone setting, mounting, welding, and engraving.
This career comes up with many opportunities. Jewellery designers can find many interesting opportunities in small and medium-sized ventures that supply the finished product or goods to galleries, high street stores, boutiques, and retail chains catering to the high-end market.
Jewellery designers work as specialists, their everyday tasks may involve setting stones ( precious and semi-precious), electroplating, enamelling, and engraving.
Types of Jewellery Designers
Candidates involved in the jewellery design profession may opt for various roles depending on their skills and specialisations.
1. Craft and Fine Artists
Craft artists are skilled in fine arts and create functional products for their customers.
They craft showpieces such as glassware, pots, and also textiles.
It is considered one of the major aesthetic options in the sub-disciplines of jewellery design.
2. Metalworkers and Related Occupations
There are also other professions in the field of metalworkers such as welders, cutters, and brazers or solders.
Each performs a task related to the construction of metal products, including jewellery creation.
The aspirants with a background in designing may choose to specialise in the area of the jewellery manufacturing industry.
3. Jewellery Merchandiser
A jewellery merchandiser's work responsibility includes planning and forecasting sales, stock, intake, and discount.
Merchandisers are usually based at the head office of a jewellery company.
They work alongside the team to plan the ranges and stock levels, they forecast trends and monitor sales.
What are the skills and qualities required to become a Jewellery Designer?
1. Attention to Detail
Designing jewellery takes a lot of patience and dedication.
Jewellers have to pay close attention to major and minor details.
2. Strong Focus
A career as a gemologist demands focus to craft the piece.
The profession of jewellery designing requires concentration to create fine and precise designs.
It requires working with clients and understanding their requirements.
3. Computer Skills
Becoming computer savvy improves productivity.
Several firms have begun to rely on computerised technology to get jobs completed.
A jewellery designer must have hands-on experience in jewellery designing using computer-aided design or CAD software such as Photoshop, Gimp, AutoCad, Illustrator and CorelDraw.
4. Commercial Skills
Jewellery designers must know commercial skills to get established in the market.
They must be confident about their designs and be able to communicate their work effectively.
Negotiating and persuasion skills are most important for self-employed jewellery designers.
5. Technical Skills
Technical skills enable employees to perform more efficiently.
The candidates must have technical skills such as knowledge of gemology.
…
---
Have you checked out yesterday's blog yet?
What do recruiters look at first when going through a resume?
---
(Disclaimer: The opinions expressed in the article mentioned above are those of the author(s). They do not purport to reflect the opinions or views of ICS Career GPS or its staff.)
Like this post? For more such helpful articles, click on the button below and subscribe FREE to our blog.
---
Download our mobile app, ICS Career GPS, a one-stop career guidance platform.