Edition: October 27th, 2021
Curated by the Knowledge Team of ICS Career GPS
---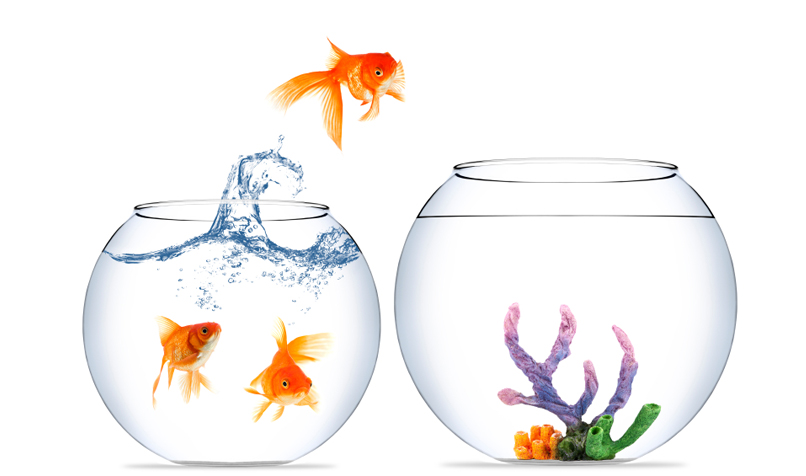 Four million employees jumped on The Great Resignation bandwagon in April, 2021 — more than any single month in a century, and the trend continues into the fall of the year.
While it's enticing to imagine the alternative career of your dreams, taking the necessary jump to get there is scary.
However, it's possible to become a creative risk taker and stretch into the unfamiliar and unexpected, and embrace career uncertainty. Stepping outside your comfort zone can infuse growth into your career.
Dare To Jump
If you're on the verge of making a career jump, here are 5 secrets to help you find the courage to take the leap:
1. Work on your confidence
It's scary to make a career change, especially when you've been working at the same company or in the same position for years.
But, there's no growth in the comfort zone.
Build your confidence by writing down a list of your strengths, skills and accomplishments.
Use this as a highlight-reel whenever you feel self-doubt. It will inspire you with confidence to take the leap!
2. Define your dream job
If you don't know the specifics of what your dream job is, how can you expect to get it?
Write down what your dream job looks like.
Having a clear definition and vision of your dream career will help you plan the steps you need to take to get there.
3. Think big, start small
Successful people take action, they don't let fear of taking the first step stop them.
So think about your jump in increments to make it feel more manageable.
There is no wrong first step, you just have to have the courage to start.
4. Take calculated risks
You may not feel totally "ready" for your next career move. That's normal.
But if you feel you have at least 80% of the skills needed, you should apply for the job you want.
Believe in yourself, trust in your ability to learn on the go, and take the risk!
5. Tap into your network
Reach out to and share your ambitions to make a career change!
If no one knows you're looking to make a career change, how can they introduce you to new opportunities?
Be A Smarter Risk-Taker
Here are 5 tips to make you a smarter risk-taker and enrich your professional development:
1. Embrace risk-taking as a muscle that you flex often
Success is the result of making multiple choices, not just one, and continuing to learn from each move we make to inform the next choice.
Build your risk-taking muscles early and often by making small new choices each day and learning from what happens.
2. Take risks to discover and learn, not just to achieve
People who are smart risk-takers take risks for many reasons, not just to achieve one mighty ambition.
They use their time and energy to discover what's possible by pipe lining many possibilities at once before choosing.
They also learn new skills and attain new knowledge.
There are multiple reasons and ways to take a risk that help accelerate our cumulative success.
3. Put the 'who' before the 'what' in your choices
Making smart choices often involves evaluating the "who" in any new career choice over the "what."
While we are told to pursue our passions, these often change over time.
But in any equation, working with smart people who can teach us new things faster, have complementary strengths to ours, and with whom we share overlapping values increases the likelihood of finding impact and success in any choice.
4. Look for the tailwinds and headwinds to decide which risks to take
Smart risk-takers know that the world is not entirely in their control and look for signals in the environment that can accelerate their chances of success in any endeavour.
You can still find impact and professional growth in choosing to enter a challenging situation if it gives faster learning, responsibilities or a chance for greater impact.
5. Choose risks that take you closer to your career goals
Many people think risk-taking is about having the perfect plan. But sometimes we don't know what we want precisely.
The best risk to take might be to get "closer to the thing we seek" to learn about it, so we understand how to attain it.
When we plan from afar for some new choice, we are planning in theory.
When we choose to get closer to a situation we imagine ourselves in, we can learn a lot and create a much more informed goal or plan.
Finally, Develop A Growth Mindset
Once you start to stick your neck out and accept failure as an essential stepping stone to success, you become willing to go through the required hurtful steps to get there.
Whether you're a recent grad, an industry veteran, a seasoned manager or anyone in between, a growth mindset is essential for career advancement.
…
---
(Disclaimer: The opinions expressed in the above mentioned article are those of the author(s). They do not purport to reflect the opinions or views of ICS Career GPS or its staff.)
Liked this post? For more such helpful articles, click on the button below and subscribe FREE to our blog.
---
---
---
Download our mobile app, ICS Career GPS, a one-stop career guidance platform.