Career Trends: April 20, 2022
Curated by the Knowledge Team of ICS Career GPS
---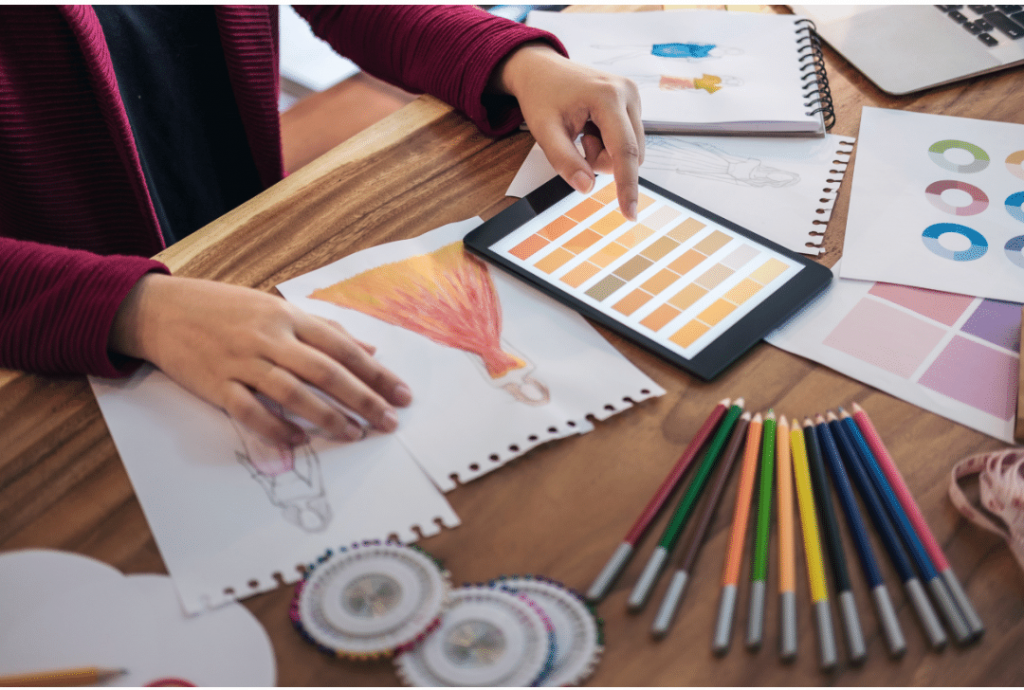 Content Credit:
---
The fashion industry comprises a conglomeration of companies and individuals, including retail stores, design studios, sourcing and sales firms, influencers, etc. It's operations can be divided into four stages: raw materials production; the crafting of fashion products; retail sales; and advertising and marketing.
The sector is expected to continue growing and expanding its appeal. With India being the world's second-largest exporter of textiles and clothing, the industry here is also warming up to the sustainability requirements.
According to India Brand Equity Foundation (IBEF), the Indian apparel industry and textiles contributed 2.3 percent to the GDP of India. In a few years, the Indian fashion business is predicted to reach USD 400 million, with a year-on-year growth rate of more than 10 percent.
Today, there are endless opportunities available for creative minds in the Fashion Industry.
Here's an indicative list of the types of jobs in the sector:
1. Fashion Designers
Fashion design entails the production of unique designs for clothing and accessories with transitioning trends.
Fashion design covers a wider field of design that includes jewellery, footwear, accessories, luggage, and other products.
The salary for a fashion designer varies depending on the place of employment and professional reputation.
2. Stylists
Fashion styling includes maintaining the appearance and elegance of fashion shows, events, publication shoots and other similar fashion-related promotional initiatives.
They pay attention to makeup, dress, and hairstyle to guarantee that the show, cast members, celebrity clients, etc., look their best.
3. Merchandisers
They investigate their clients' purchase tendencies to choose what products to provide for a company.
They typically work with the management to create budgets and revenue-generating goods.
They also attend fashion events and conduct research to stay updated with the latest trends.
4. Retail Managers
A store manager is responsible for a variety of responsibilities, including setting sales goals and promoting items.
One of the main responsibilities is to provide the best degree of customer satisfaction possible.
The functions and responsibilities of retail managers in the fashion business are the same as they are everywhere.
5. Textile Designers
Textile designers are in high demand in textile and fashion design studios.
Their work is to determine a product's innate quality, composition and how it would suit a purpose in general.
They focus on knit, print, weave, etc.
6. PR Specialists/Social Media Influencers
Public relations professionals that work for apparel companies help to build and maintain a good brand image.
They collaborate with marketing experts to create events that increase consumer awareness of the brand and product.
In addition, the public relations professional is in charge of writing news releases and responding to media queries.
Social media fashion influencers can be celebrities, models, or just fashion savvy individuals from all walks of life.
7. UX Designers
We are entering the era of 3D fashion and virtual models.
Those who have a good hold on fashion and technology, can choose UX design as their career path.
In today's scenario, digital designers are in high demand, UX designers focus on the usability and functionality of the digital design.
8. Product Developers
From design conception through production completion, product developers manage the apparel process.
They are the primary contact for the apparel firm with the manufacturer, and they are in charge of selecting the best factories for each product.
The budget and timeline agreements for the manufacturing are handled by the product developer.
9. Graphic Designers
Graphics printed on clothes and other merchandise are created by graphic designers using a combination of hand sketching and computer-aided design.
Graphic designers have a keen sense of colour and design harmony, which they employ to create aesthetically appealing visuals.
10. Retail Buyers
Retail buyers pick the variety of goods available for customers to peruse at retail or department shops.
When choosing things to offer, they evaluate market demands, current style trends, pricing, quality, and their customers' buying patterns.
11. Creative Directors
The creative directors are responsible for deciding on a clothing season's concept, colour palette, and styling.
They might work for a fashion company or a fashion publication.
A clothing creative director does trend research and analyses high-level sales data to identify which trends and styles are most likely to be purchased by their clients.
…
---
Have you checked out yesterday's blog yet?
---
(Disclaimer: The opinions expressed in the article mentioned above are those of the author(s). They do not purport to reflect the opinions or views of ICS Career GPS or its staff.)
Like this post? For more such helpful articles, click on the button below and subscribe FREE to our blog.
---
---
---
Download our mobile app, ICS Career GPS, a one-stop career guidance platform.