Career Trends: December 9, 2022
Curated by the Knowledge Team of ICS Career GPS
---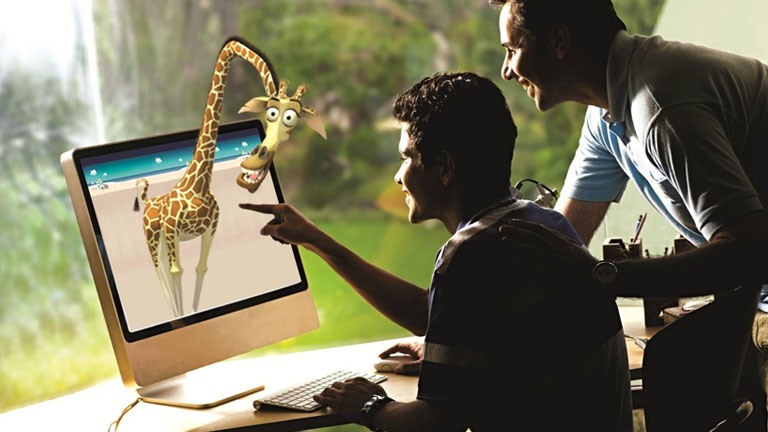 ---
Content Credit:
---
There is a plethora of professional options. When it comes to deciding on a job route, many variables weigh heavily on your mind. However, if you know at least which field you want to pursue, the search narrows down to a particular course or pathway which you can pursue.
What is Animation and VFX?
We have all grown up watching cartoons. But have we ever considered how these characters, as well as a slew of others, came to be? Who designed them? They were animated inventions. Visual effects are referred to as VFX. This entails developing imagery for a specific expression or effect.
Animation is a type of visual effect in which characters or objects move in two-dimensional or three-dimensional space. The film 'The Lion King' is a good example. This is an animated film, yet each character (in this case, animals) appears to be real. This is accomplished using a variety of software programmes that modify still photos.
Eligibility
Candidates can begin by enrolling in an undergraduate animation and visual effects course. You don't have to wait till you have completed your education to work in this industry. A BSC in Animation and VFX, often known as a Bachelor of Design in Animation, is a three-year VFX programme.
A 10+2 in any stream from a recognised board is required for a BSc in Animation and VFX. Candidates must have a minimum of 50% in their 12th grade to be considered. Almost no institutes demand that applicants have prior work experience in the discipline.
Students can pursue MBA and MSC in Multimedia and Animation, as well as a PG Diploma in Animation, for further studies in animation and VFX. In addition to post-graduate studies, the candidate can enrol in diploma and certificate programs to gain access to the job market.
Skill set required to become an Animation and VFX artist
To be a VFX animator, you will need both technical talents and particular personality attributes to succeed in this field.
Technical Knowledge Includes:
JavaScript – After Effects
Adobe Creative Suite is a software package that allows you to create
Linux/Unix UI design
Houdini\MAYA
Modelling in three dimensions
Prototyping
Photoshop
Packages for Microsoft Office
Nuke
Z-Brush
Personality Traits Include:
While technical skills can be learned quickly, certain personality attributes must be cultivated in order to succeed in this field.
Creativity: Being able to envisage scenarios that will transition well into large (or tiny) screens is crucial.
Attention to Detail: There are many fine details you should pay attention to in order to make a character feel more real.
Good visual awareness: Can you tell whether a cluster of flowers would appear better if duplicated and made into a larger group, or how the effects of a certain colour affect a scene? It's almost as crucial to be able to manipulate spacing and distances as it is to be colour sensitive.
A strong collaborative mentality/Team Player: As previously stated, this field will necessitate a great deal of collaboration because various people will be participating in the process.
Organisational Skills: Because there are so many agencies involved, one must be extremely organised to ensure that all interactions and communications are clear, precise, and well-documented.
Career Opportunities:
Animation design, game design, graphics, storyboarding, 3D modelling, texturing and lighting, 2D and 3D animation, Compositing and more are some of the primary career categories available in these industries.
The following are a few major career options:
1. Post-Production Artists
Compositing Artists: They look for mistakes and devise ways to create the final animated film. They use Adobe After Effects and Motion 5, among other programmes.
Roto scoping Artist: Animators trace over live-action footage frame by frame in this manner. It gives the impression of realism.
Motion Graphic Designer: A motion graphic designer's employment entails making movie clips, adverts, title sequences, and trailers, among other things.
FX technical director: They are in charge of overseeing particle and fluid effects generation. Creating flames, fluids, smoke, clouds, and physical destruction such as explosions and particles are all examples of this.
VFX artist: A person who creates visual effects for games, movies, and television shows.
VFX supervisor: Oversees all aspects of the visual effects necessary during the production process.
Render Wrangler Animator: This is the final person to see the animation before turning it into a film or video.
Rigging Artist: 3D riggers design a skeleton for a 3D animation to allow it to move around. Before they can be animated, characters must be rigged.
Matte painters: These are the people that create photo-realistic landscapes and surroundings that are impossible to duplicate on location.
2. Pre-Production Artists
Content developer: This position entails matching lines of conversation to animations, reviewing the final output, and providing status reports.
Storyboard Artist: A storyboard artist transforms a narrative into a visual story.
Character animator: Constructs and designs characters using a variety of animation technologies, 3D modelling, and even puppetry.
Background Artist: A background artist is someone who produces the colour, style, and feels of a scene.
Layout artist: This person is in charge of drawing the visual layout.
Concept Artist: Concept artists develop visual representations of ideas. Their work can be found in animation, comic books, advertising, and print, among other fields.
…
---
Have you checked out yesterday's blog yet?
---
(Disclaimer: The opinions expressed in the article mentioned above are those of the author(s). They do not purport to reflect the opinions or views of ICS Career GPS or its staff.)
Like this post? For more such helpful articles, click on the button below and subscribe FREE to our blog.
---
Download our mobile app, ICS Career GPS, a one-stop career guidance platform.