---
Highlights of the Key-Note address by:
Mrs Jyotsna Brar, renowned educationist(Former Principal, Welham Girls' School, Dehradun)
At the Professional Development Programme on "Subject Teachers as Career Guides"(August 19-20, Dehradun).
Conducted by: Institute for Career Studies, Academic Centre for Educators (ICS-ACE)
---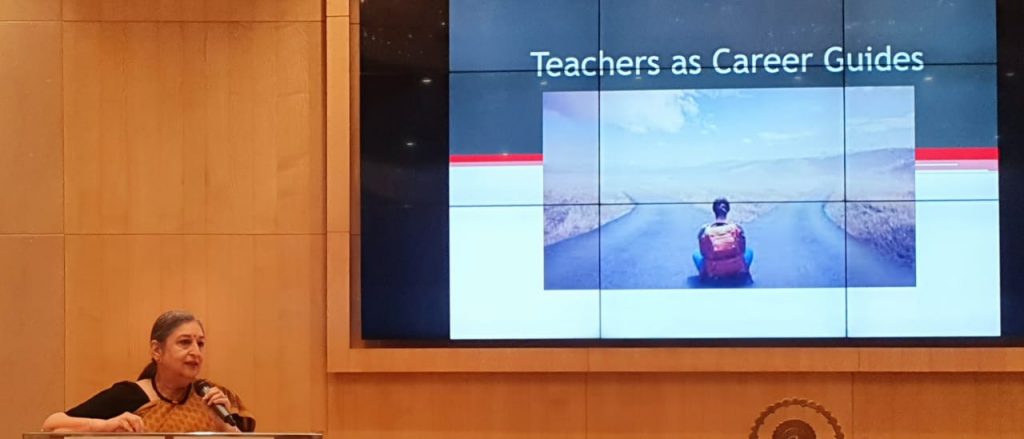 ---
 'Careers' actually start seven to ten years AFTER school. A career is not just 'a job' but a long term livelihood and a way of life. It is not just for earning but also for contributing to the world. Often a person can have several careers and even the same career can keep changing as its context changes.
Where does a subject teacher in school come into this?
"When I was a young teacher in 1988, I realised that if we wanted our students to think wider, more globally, we teachers needed to approach our subjects and our students in a fresh way, going much beyond the book, going beyond mere information learnt up for a summative assessment of temporary knowledge. The real exams came later in life and that is what we needed to teach to make our students truly successful.
As the years passed and the new century dawned, Aspirations increased, Competition increased, Opportunities increased and young people increased!"
India has more than 50% of its population below the age of 25 and more than 65% below the age of 35. In 2022, the average age of an Indian is 28.7 years, compared to 38.4 for China and 48.6 for Japan.
Marketing for Instant Success Increased!
It was marketed by the Coaching Centres which began to influence parents – Engineering, Medicine were the top-ranked professions, shouted out by every newspaper and billboard. Kota-style Coaching caught on. Architecture and Law caught up later.
The Entrance Examination System into professional courses became more and more part of parental aspirations, more complicated and stressful for children, more lucrative for 'coaching centres' with everyone caught in the marketing cycles – including schools.
Today we have the terrible system of a single exam on a single day on which the future of children hangs for any kind of graduation in an affordable central college or university. Who knows if private colleges and universities will be pulled into it too.
The number of Indian students studying outside India rapidly increased by 163% between 1999 and 2006 to reach 145,539 as compared to slower growth of 25% between 2006 and 2013 to reach 181,872, according to an analysis of UNESCO data. As of January 2021, more than 1 million Indian students are studying in 85 countries outside India, with more than 50% of them in North America.
Children are largely influenced by peers. Parents are influenced by their peers. Most Schools and teachers leave it to individual students and families to make their choices.
Some schools step in to seek information for themselves and to make it available to their students and to their parents. These schools seek information for themselves to plan their own curriculum and their student support system. The schools make this information available to students and parents. They strive to be the link / bridge between the student's abilities and achievements, the parents' aspirations and the tertiary education opportunities available for their students.
This has to be a responsible collection of information and ideally it must include the following:
The identified and recorded interests, abilities and achievements of the student – as a reality check and for a personal fit.
The choices of career pathways open to students after school (not careers)
The support that the school can and will give them in being prepared for these pathways – from subject combinations to great teaching to actual hand-holding.
Career and the Subject Teacher – what is the bridge that can be built between "Teachers-Parents-Students":
The bridge is built through the Teachers in their classrooms with their own students every day. Aware Teachers in an Aware School are sensitive to their students and well-informed and aware of the career pathways that lead out from their subject.
Aware and informed teachers become motivated towards the learning needs of students.
All senior school teachers become an effective and informed interface with parents.
Understanding of inter-disciplinary needs of students makes teachers collaborate and co-operate with each other so that their students learn to see things widely and deeply.
All teachers share their knowledge of the possible career paths of students with each other and this helps with vertical planning of syllabus.
Assessment systems within each subject department become future goal oriented, not just for temporary assessments of 'statutory' examinations and test marks. (Eg. Teaching English that may be required later for CAT or CLAT or for writing college applications, etc.)
Benefits of Teachers trained as Career Guides:
Students – and parents – understand what goals to set in each class along the pathway, thus avoiding regret.
Each student's career pathway and the place of the subject choice in it can be reviewed periodically and jointly by the teacher and student, thus keeping the student motivated and involved in their own growth.
Last minute counselling and confusion in the making of choices is avoided.
The School is seen as an aware, updated and connected institution that understands and responds to the anxieties of students and parents in time.
…
---
Have you checked out yesterday's blog yet?
---
Liked this post? For more such helpful articles, click on the button below and subscribe FREE to our blog.

Download our mobile app, ICS Career GPS, a one-stop career guidance platform.