Career Trends: July 10, 2022
Curated by the Knowledge Team of ICS Career GPS
---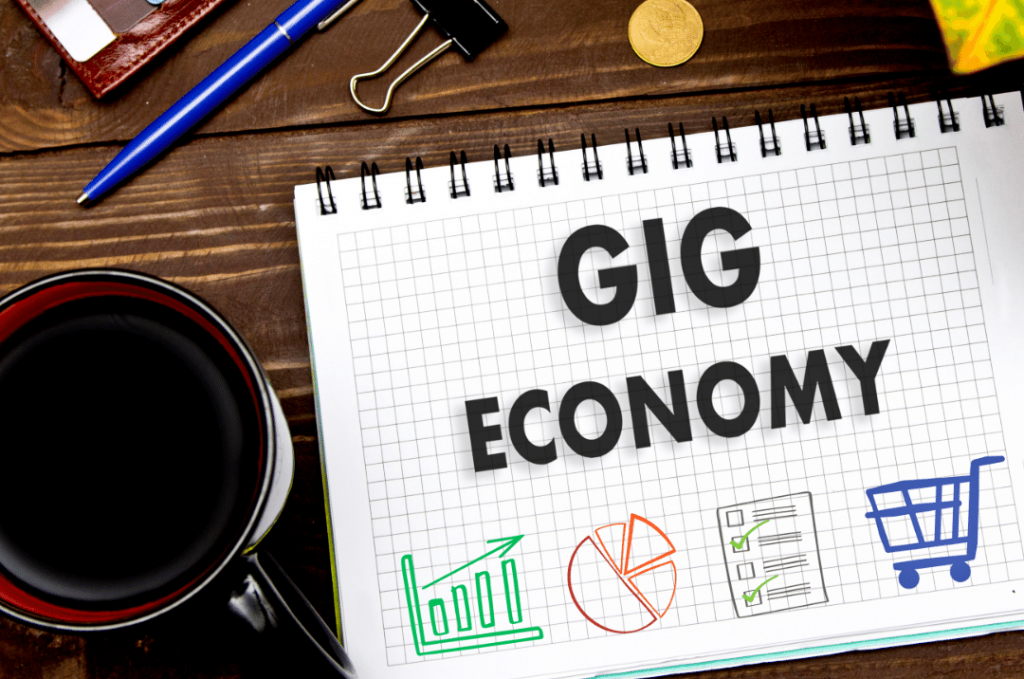 ---
Content Credit:
---
Gig workers are those engaged in livelihoods outside the traditional employer-employee arrangement, according to the NITI Aayog report. They can be broadly classified into two categories — platform and non-platform-based workers. Platform workers are those whose work is based on online software apps or digital platforms. Non-platform gig workers are generally casual wage workers and self-employed people working in the conventional sectors. They can work part-time or full time.
Within the gig workforce, work-from-home jobs account for 33 percent of the roles and 67 percent were on-field roles. The highest demand was recorded for sales and marketing roles, according to the Taskmo Gig Index (TGI), a tool to measure the demand and supply for gig work across India.
Between 2010 and 2018, mobility aggregators – Ola and Uber – alone were reported to have unlocked 2.2 million platform job opportunities in the country, according to the report. These included driving jobs using taxi-cabs, auto-rickshaws, and the ubiquitous two-wheelers (scooters and motorbikes) as taxis.
High, Medium and Low-skilled Gig Workforce:
High-skilled workers include roles such as independent consultants, administrative assistants, graphic designers, substitute instructors, tutors, content writers, engineers, etc.
Medium-skilled workers are electricians, carpenters, beauticians, construction workers, telecallers, etc.
Low-skilled gig workers include cab drivers, delivery executives, pickers and packers, among others.
Trend shows that the concentration of workers in medium skills is gradually declining and that in low and high skills is increasing.
It may be expected that while the domination of medium skills would continue till 2030, gig work with other skills will emerge.
The Roles in Top Demand:
According to Taskmo's May data, on the back of growing marketing and sales across segments, these job profiles have seen a huge spike in demand for the gig segment:
Business development executives
Field sales executives
Digital promoters
Brand promoters
Micro-influencers
Delivery executives
Telecallers
With the post-pandemic reset, more and more companies are hiring freelancers for such job roles in the hopes of meeting yearly targets.
For roles like business development executives and telecallers, the right candidates need to have strong interpersonal, networking, and communication skills. They should know regional languages, and must have leadership qualities as well as a learning approach.
How Much Are Gig Workers Paid?
Gig workers are mainly paid on the outcome-based model.
Meaning they are remunerated for the number of tasks they do i.e., on a task-to-task basis or monthly basis.
The salary differs based on the task and the time required for it, but roughly ranges from ₹500 to ₹2,000 per day, Taskmo's Janadri said.
…
---
Have you checked out yesterday's blog yet?
---
(Disclaimer: The opinions expressed in the article mentioned above are those of the author(s). They do not purport to reflect the opinions or views of ICS Career GPS or its staff.)
Like this post? For more such helpful articles, click on the button below and subscribe FREE to our blog.
---
---
---
Download our mobile app, ICS Career GPS, a one-stop career guidance platform.