Career Trends: August 1, 2022
Curated by the Knowledge Team of ICS Career GPS
---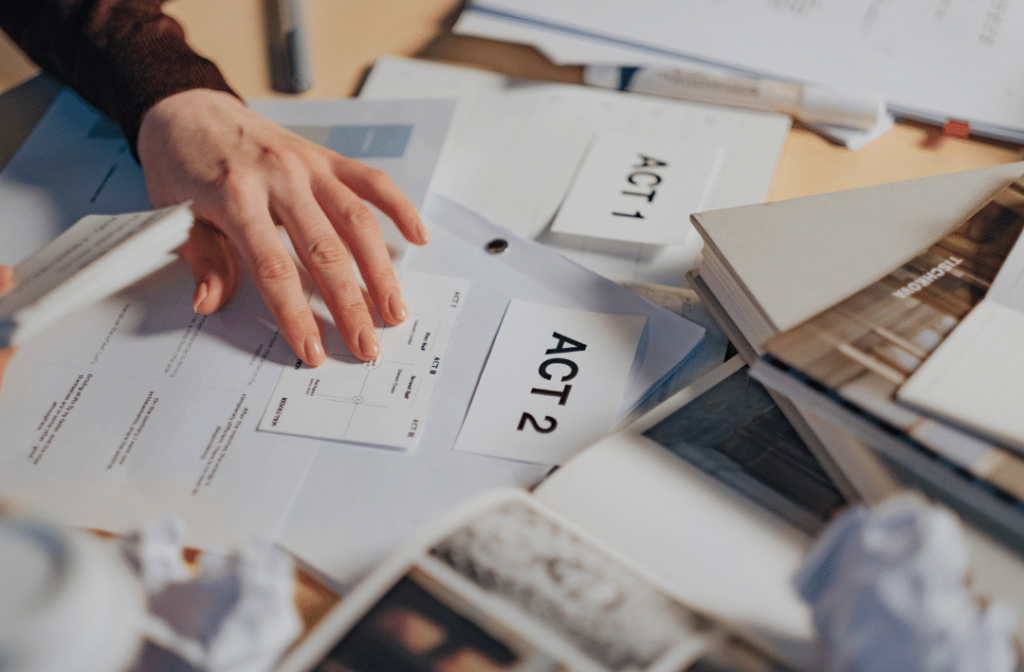 ---
Content Credit:
---
A scriptwriter is someone who writes a screenplay for films, OTT, television and advertising among others. Their main task is to tell a story clearly while developing the characters and settings. Scriptwriters must have a solid hold on the primary writing languages, as well as the knowledge and understanding of plot structure, film and television program structure, and editing processes. Scriptwriting as a profession is emerging, bringing more writers into the field.
Scriptwriters get to work in an array of settings, including studios, corporate environments, on location, on built up sets and other production companies. Most scriptwriters work either on a freelance basis or full-time. They also have the chance to travel for big projects, to meet clients, or to attend industry events.
What are the responsibilities of a scriptwriter?
As mentioned, a scriptwriter is responsible for detailing the story, including the physical environment of a scene and emotions of the characters. Scripts can go through many changes due to timing and content, and scriptwriters are looked upon to make significant changes to the screenplay while preserving the story and plot flow.
Scriptwriters can invent fictional material, write scripts based on actual events, or adapt existing works (such as books, plays, or films). Here are the things that you should consider doing if you are trying to make a career as a scriptwriter:
Develop and research ideas for original screenplays.
Create an initial frame for the plot.
Adapt a story into a presentable script.
Meet with film directors and producers to discuss scripts and other presentation techniques.
Incorporate visuals with storylines and dialogue to create scenes.
Work closely with producers, directors and actors to edit and adjust scripts whenever required.
What educational courses can you take to become a scriptwriter?
Any idea in your mind that might be struggling to find expression, can be given its ideal place once you enroll yourself into a good scriptwriting course. Here is a list of a few top courses you can pursue to become a scriptwriter.
Post Graduate Certificate in Feature Film Screenplay Writing from FTII Pune
Certificate in Script Writing from AIFT – Atharva Institute of Film and Television, Mumbai
Certificate in Script Writing (Copy, creative and content) from Delhi School of Communication, Delhi
Online Advanced Certificate in Series Writing from Whistling Woods International Virtual Academy, Mumbai
Diploma in Screenwriting from Ramoji Academy of Film and Television, Hyderabad
Certificate in Filmmaking, Direction and Scriptwriting from Institute of Mass Communication Film and Television Studies, Kolkata
What are some of the most important skills for a scriptwriter?
In general, to be successful in scriptwriting or screenplay writing, the following skills are a must-have:
Writing Skills: A good knowledge of your mastered language and the ability to write engaging stories are a must for this job.
Observations: Many scriptwriters base much of their characters, storyline, and dialogues on people, events and places they observe in real life. An aspiring scriptwriter must be a keen observer who pays attention to both the big and the small details.
Creativity: Scriptwriters must be able to come up with new ideas and imagine what a movie might look like, even before it goes into production. They should be capable of deciding on the key story beats, developing them, and coming up with film worthy concepts in the long run.
People Skills: When a film is being made, the writer must work with the producer, director and other team members to bring out the essence of the scene. They must also be able to present their scripts effectively. Hence, a script writer should work on their communication skills and on maintaining these relationships with ease at work.
…
---
Have you checked out yesterday's blog yet?
---
(Disclaimer: The opinions expressed in the article mentioned above are those of the author(s). They do not purport to reflect the opinions or views of ICS Career GPS or its staff.)
Like this post? For more such helpful articles, click on the button below and subscribe FREE to our blog.
---
Download our mobile app, ICS Career GPS, a one-stop career guidance platform.